Wikileaks
Wikileaks Cables
Wikileaks CRCL Working Paper Feb_8.pdf (Objet application/pdf)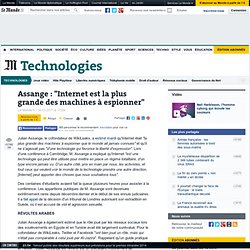 Julian Assange, le cofondateur de WikiLeaks , a estimé mardi qu'Internet était "la plus grande des machines à espionner que le monde ait jamais connues" et qu'il ne s'agissait pas "d'une technologie qui favorise la liberté d'expression" . Lors d'une conférence à Cambridge, M.
Assange : "Internet est la plus grande des machines ? espionner"
by Steve Ragan - Feb 11 2011, 01:55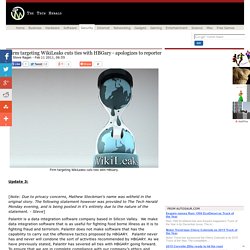 Firm targeting WikiLeaks cuts ties with HBGary - apologizes to reporter
Tracking the Egypt Crisis via Google, News Curation Tools | The Rundown News Blog | PBS NewsHour
By: News Desk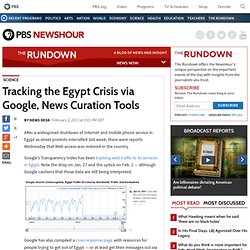 Médias - Égypte: Wikileaks à la rescousse d'Obama!
WikiLeaks' Julian Assange, Pt. 1 - 60 Minutes
Secrecy is the problem, not leakers - Opinion
WikiLeaks is now at the centre of a global battle between media and those in power but what's new about what Julian Assange is doing?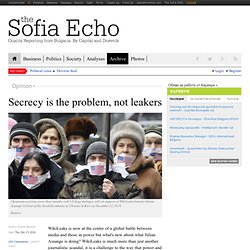 This Is The Wikileak That Sparked The Tunisian Crisis
Secret subpoenas * information requests of the kind the Department of Justice sent Twitter are apparently not unusual. In fact, other tech companies may also have received similar WikiLeaks-related requests. But what is unusual in this story is that Twitter resisted. Which raises an interesting question: Assuming that Twitter was not the only company to have been served a secret subpoena order, why was it the only company that fought back? The answer might lie in the figure leading Twitter's legal efforts, Alexander Macgillivray (right), an incredibly mild mannered (really) but sharp-as-a-tack cyber law expert.
Why Twitter Was the Only Company to Challenge the Secret WikiLeaks Subpoena
Wikileaks Calls for Sarah Palin's Arrest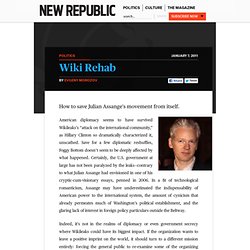 How to save Julian Assange's movement from itself. American diplomacy seems to have survived Wikileaks's "attack on the international community," as Hillary Clinton so dramatically characterized it, unscathed. Save for a few diplomatic reshuffles, Foggy Bottom doesn't seem to be deeply affected by what happened.
How WikiLeaks Became the Story of the Year in 2010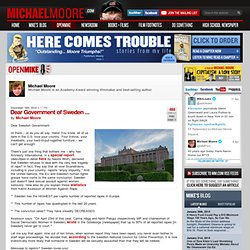 Dear Government of Sweden ...
December 16th, 2010 9:17 PM By Michael Moore Dear Swedish Government:
I attend a lot of conferences on media and technology -- indeed, they might actually be the biggest growth sector of the media -- but the one I attended this past weekend was one of the most fascinating I've been to in quite a while. Entitled " A Symposium on WikiLeaks and Internet Freedom ," the one-day event was sponsored by the Personal Democracy Forum and was moderated by the group's Micah Sifry and Andrew Rasiej. The WikiLeaks story is an ever-shifting one -- witness the latest twists of the Air Force blocking its personnel from accessing more than 25 news sites that have posted material released by WikiLeaks, and the shocking treatment of Bradley Manning, the U.S.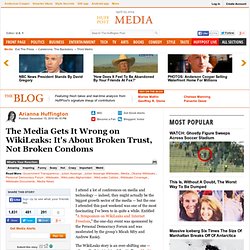 Arianna Huffington: The Media Gets It Wrong on WikiLeaks: It's About Broken Trust, Not Broken Condoms
The Today show interviewed WikiLeaks founder Julian Assange on Friday after his release from prison on bail Thursday afternoon. During the interview, he described his recent court appearances as "not the beginning of the end, rather it is merely the end of the beginning."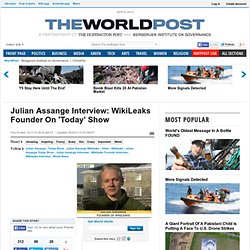 Julian Assange Interview: WikiLeaks Founder On 'Today' Show
zerwas2ky's Channel
Why I'm Posting Bail Money for Julian Assange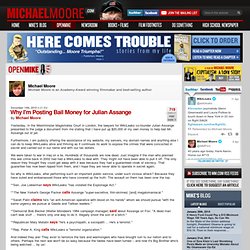 December 14th, 2010 6:23 AM
Like a lot of people, I am conflicted about Wikileaks.
Why the Library of Congress Is Blocking Wikileaks « Library of Congress Blog
The news media are reporting today, accurately, that the Library of Congress is blocking access to the Wikileaks site across its computer systems, including those for use by patrons in the reading rooms.
UPDATE: On Monday, John H.
State Department To Columbia University Students: 'DO NOT Post' WikiLeaks On Facebook, Twitter
Have 250,000 leaks sunk the State Department's 'Internet Freedom' policy?
Wikileaks and 21st Century Statecraft ? P U L S E
Le Web . I'm still unclear on the unique selling point of Europe's "leading technology conference", and yet here I am, for the third year in a row, hanging out in a snow-bound venue four hundred miles from the centre of Paris, watching a succession of American entrepreneurs being interviewed – in English – by journalists who have flown in specially from California.
Everyone at Le Web is Wrong: Wikileaks Should be Condemned not Celebrated
Make stories - storify.com
Assange Accuser Worked with US-Funded, CIA-Tied Anti-Castro Group