Wikileaks
Wikileaks Cables. Wikileaks CRCL Working Paper Feb_8.pdf (Objet application/pdf) Assange : "Internet est la plus grande des machines ? espionner" Julian Assange, le cofondateur de WikiLeaks, a estimé mardi qu'Internet était "la plus grande des machines à espionner que le monde ait jamais connues" et qu'il ne s'agissait pas "d'une technologie qui favorise la liberté d'expression".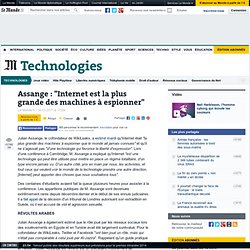 Lors d'une conférence à Cambridge, M. Assange a expliqué qu'Internet "est une technologie qui peut être utilisée pour mettre en place un régime totalitaire, d'un type encore jamais vu. D'un autre côté, pris en main par nous, les activistes, et tout ceux qui veulent voir le monde de la technologie prendre une autre direction, [Internet] peut apporter des choses que nous souhaitons tous". Des centaines d'étudiants avaient fait la queue plusieurs heures pour assister à la conférence. Les apparitions publiques de M.
Tracking the Egypt Crisis via Google, News Curation Tools | The Rundown News Blog. After a widespread shutdown of Internet and mobile phone service in Egypt as street protests intensified last week, there were reports Wednesday that Web access was restored in the country.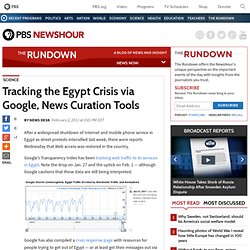 Google's Transparency Index has been tracking web traffic to its services in Egypt. Note the drop on Jan. 27 and the uptick on Feb. 1 — although Google cautions that these data are still being interpreted. Google has also compiled a crisis response page with resources for people trying to get out of Egypt — or at least get their messages out via voice messages posted to Twitter or raw footage on CitizenTube. (Update 6:20 p.m.: Alive in Egypt is a site that is translating some of those voice messages.)
Médias - Égypte: Wikileaks à la rescousse d'Obama! C'est un intéressant retournement de situation.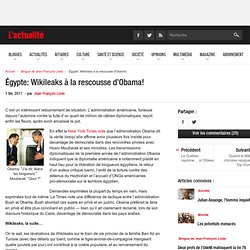 L'administration américaine, furieuse depuis l'automne contre la fuite d'un quart de million de câbles diplomatiques, reçoit enfin les fleurs, après avoir encaissé le pot. Obama: "J'ai dit: libère les blogueurs. " Moubarak: "Quoi ? " En effet le New York Times note que l'administration Obama dit la vérité lorsqu'elle affirme avoir plusieurs fois insisté pour davantage de démocratie dans des rencontres privées avec Hosni Moubarak et ses ministres. WikiLeaks' Julian Assange, Pt. 1 - 60 Minutes. Secrecy is the problem, not leakers - Opinion. Ukrainian activists cover their mouths with US flags during a rally in support of WikiLeaks founder Julian Assange in front of the Swedish embassy to Ukraine in Kiev on December 22 2010.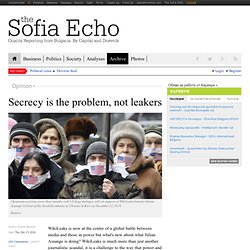 WikiLeaks is now at the centre of a global battle between media and those in power but what's new about what Julian Assange is doing? WikiLeaks is much more than just another journalistic scandal, it is a challenge to the way that power and news media operate in the Internet Age. In some ways WikiLeaks is a traditional investigative news operation. It gets its information from a source and the journalists decide what they will publish. This Is The Wikileak That Sparked The Tunisian Crisis. Why Twitter Was the Only Company to Challenge the Secret WikiLeaks Subpoena. Alexander Macgillivray" />Secret subpoenas* information requests of the kind the Department of Justice sent Twitter are apparently not unusual.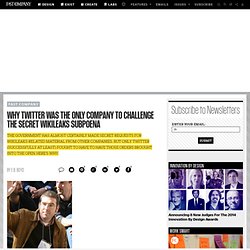 In fact, other tech companies may also have received similar WikiLeaks-related requests. But what is unusual in this story is that Twitter resisted. Which raises an interesting question: Assuming that Twitter was not the only company to have been served a secret subpoena order, why was it the only company that fought back? The answer might lie in the figure leading Twitter's legal efforts, Alexander Macgillivray (right), an incredibly mild mannered (really) but sharp-as-a-tack cyber law expert. Twitter's general counsel comes out of Harvard's prestigious Berkman Center for Internet and Society, the cyber law powerhouse that has churned out some of the leading Internet legal thinkers. Wikileaks Calls for Sarah Palin's Arrest. The official Twitter account for Wikileaks has posted a press release this evening drawing a comparison between the controversial rhetoric from public figures that some believe contributed to the attempted assassination on Saturday of Arizona congresswoman Gabrielle Giffords and the even more explicit calls from public officials for violence against Wikileaks spokesperson Julien Assange and others.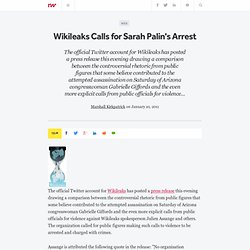 The organization called for public figures making such calls to violence to be arrested and charged with crimes. Assange is attributed the following quote in the release: "No organisation anywhere in the world is a more devoted advocate of free speech than Wikileaks but when senior politicians and attention seeking media commentators call for specific individuals or groups of people to be killed they should be charged with incitement -- to murder. Wikileaks, The Pirate Party, And The Future Of The Internet. How to save Julian Assange's movement from itself.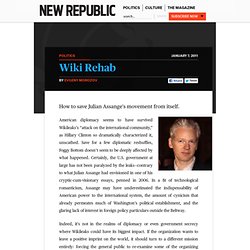 American diplomacy seems to have survived Wikileaks's "attack on the international community," as Hillary Clinton so dramatically characterized it, unscathed. Save for a few diplomatic reshuffles, Foggy Bottom doesn't seem to be deeply affected by what happened. How WikiLeaks Became the Story of the Year in 2010. Dear Government of Sweden ... December 16th, 2010 9:17 PM By Michael Moore Dear Swedish Government: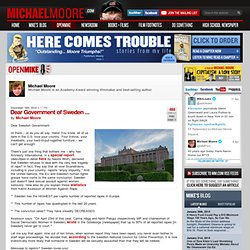 Arianna Huffington: The Media Gets It Wrong on WikiLeaks: It's About Broken Trust, Not Broken Condoms. I attend a lot of conferences on media and technology -- indeed, they might actually be the biggest growth sector of the media -- but the one I attended this past weekend was one of the most fascinating I've been to in quite a while.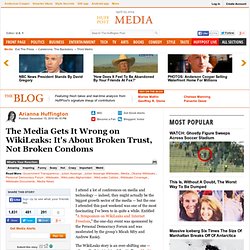 Entitled "A Symposium on WikiLeaks and Internet Freedom," the one-day event was sponsored by the Personal Democracy Forum and was moderated by the group's Micah Sifry and Andrew Rasiej. The WikiLeaks story is an ever-shifting one -- witness the latest twists of the Air Force blocking its personnel from accessing more than 25 news sites that have posted material released by WikiLeaks, and the shocking treatment of Bradley Manning, the U.S. Julian Assange Interview: WikiLeaks Founder On 'Today' Show. The Today show interviewed WikiLeaks founder Julian Assange on Friday after his release from prison on bail Thursday afternoon.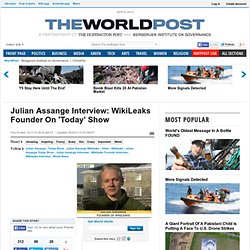 During the interview, he described his recent court appearances as "not the beginning of the end, rather it is merely the end of the beginning. " Assange confirmed that he has heard there will be espionage charges filed against him in the U.S., and denied knowing Bradley Manning, the U.S. Army intelligence analyst accused of providing WikiLeaks with information. The U.S. is allegedly putting together a case against Assange on conspiracy charges. The beleaguered founder also spoke about the rape charges filed against him in Sweden, for which he was recently imprisoned in England. Zerwas2ky's Channel. Hörbuch. Aus der Beschreibung zum Hörbuch: Englische Zeitungen sahen in ihm den "neuen Einstein".
"Steht den Deutschen ein neues Weltbild bevor? " Why I'm Posting Bail Money for Julian Assange. December 14th, 2010 6:23 AM By Michael Moore Yesterday, in the Westminster Magistrates Court in London, the lawyers for WikiLeaks co-founder Julian Assange presented to the judge a document from me stating that I have put up $20,000 of my own money to help bail Mr. Assange out of jail. Furthermore, I am publicly offering the assistance of my website, my servers, my domain names and anything else I can do to keep WikiLeaks alive and thriving as it continues its work to expose the crimes that were concocted in secret and carried out in our name and with our tax dollars. Wikileaks and the Long Haul. Like a lot of people, I am conflicted about Wikileaks. Citizens of a functioning democracy must be able to know what the state is saying and doing in our name, to engage in what Pierre Rosanvallon calls "counter-democracy"*, the democracy of citizens distrusting rather than legitimizing the actions of the state.
Wikileaks plainly improves those abilities. On the other hand, human systems can't stand pure transparency. Why the Library of Congress Is Blocking Wikileaks « Library of Congress Blog. The news media are reporting today, accurately, that the Library of Congress is blocking access to the Wikileaks site across its computer systems, including those for use by patrons in the reading rooms. I wanted to provide here the same statement we've been giving to reporters and patrons who are asking about it: "The Library decided to block Wikileaks because applicable law obligates federal agencies to protect classified information.
Unauthorized disclosures of classified documents do not alter the documents' classified status or automatically result in declassification of the documents." State Department To Columbia University Students: 'DO NOT Post' WikiLeaks On Facebook, Twitter. UPDATE: On Monday, John H. Coatsworth, the SIPA Dean, reversed the university's earlier position, affirming that students "have a right to discuss and debate any information in the public arena...without fear of adverse consequences. " Wired obtained the email: Freedom of information and expression is a core value of our institution. Thus, SIPA's position is that students have a right to discuss and debate any information in the public arena that they deem relevant to their studies or to their roles as global citizens, and to do so without fear of adverse consequences.
Wikileaks and 21st Century Statecraft ? P U L S E. Everyone at Le Web is Wrong: Wikileaks Should be Condemned not Celebrated. Wikileaks: la première Infowar a commencé. Make stories - storify.com. Assange Accuser Worked with US-Funded, CIA-Tied Anti-Castro Group. Wikileaks : lire les mémos diplomatiques. Wikileaks / [state logs]
---