Interaction écrite
Écriture collaborative
Roman dont tu es le héros - Histoires interactives - 1 connecté actuellement - 4 visites aujourd'hui - 57873 depuis le 01/01/05 Les dépôts de nouveaux romans ne sont plus possibles en raison de spams trop nombreux L'objectif de cet espace est double : - Proposer de construire un roman interactif en ligne. - Permettre à tout internaute de lire les romans interactifs validés par les administrateurs.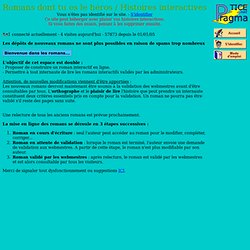 Attention, de nouvelles modifications viennent d'être apportées : Les nouveaux romans devront maintenant être soumis à la validation des webmestres avant d'être consultables par tous. L'orthographe et le plaisir de lire l'histoire que peut prendre un internaute constituent deux critères essentiels pris en compte pour la validation. Online.
Novlet - Collaborative non linear story writing. Texte Absurde - Zopler. Ecriture collaborative. Online Word Processor - Zoho Writer. Cost-Effective You don't have to install or maintain hardware and software and reasonably priced subscription plans lead to more cost savings.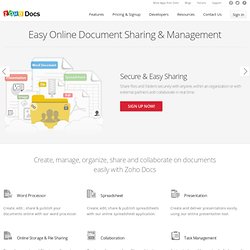 Anytime Anywhere Access Being a web-based document management solution you can take all your documents with you wherever you go with access to them anytime, anywhere. Reduced IT burden Scalability, security, reliability or software upgrades, we have them all covered, so you can focus on enhancing business productivity. Framapad. Collaborative writing software online with Writeboard. Write, share, revise, compare. Hello, We launched Writeboard back in October of 2005 as a stand-alone service.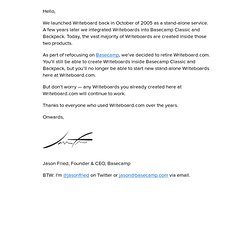 A few years later we integrated Writeboards into Basecamp Classic and Backpack. Entri | Free & Simple Collaborative Document Sharing Tool. Bubbl.us | brainstorm and mind map online. TitanPad. Etherpad Lite. LiveTyping.com – revives texts. Free Collaborative Writing Tool.
---