LinkBuilding
Link Building Experts talk about Google Penguin. This last month was all about Google Penguin.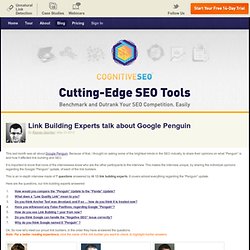 Because of that, I thought on asking some of the brightest minds in the SEO industry, to share their opinions on what "Penguin" is and how it affected link building and SEO. It is important to know that none of the interviewees knew who are the other participants to the interview. This makes the interview unique, by sharing the individual opinions regarding the Google "Penguin" update, of each of the link builders. 5 Non Spammy Ways To Get a Blogger's Attention. Unnatural Link Warnings and Blog Networks. The author's posts are entirely his or her own (excluding the unlikely event of hypnosis) and may not always reflect the views of Moz.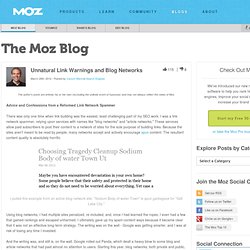 Advice and Confessions from a Reformed Link Network Spammer There was only one time when link building was the easiest, least challenging part of my SEO work. I was a link network spammer, relying upon services with names like "blog networks" and "article networks. " These services allow paid subscribers to post their content to a network of sites for the sole purpose of building links. Because the sites aren't meant to be read by people, many networks accept and actively encourage spun content.
Unnatural Links Investigations. Unnatural Links Investigations By Dixon Jones April 23, 2012 If you have been hit by a large drop in rankings in Google recently and you have built links – over the years – to try to help your SEO, then check your Google WebmasterTools messages.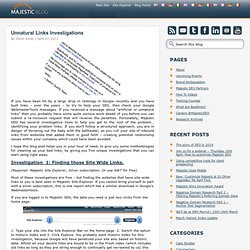 Which Directories Should You Submit Your Website To? Home > Tips > Which Directories Should You Submit Your Site To?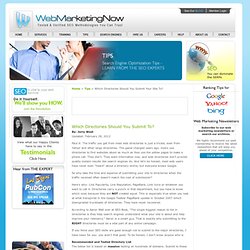 Which Directories Should You Submit To? By: Jerry West Updated: February 28, 2012 Face it: The traffic you get from most web directories is just a trickle, even from Yahoo! The Anatomy of an Awful Guest Post | iPullRank. When people reach out to me about writing guest posts I get genuinely excited.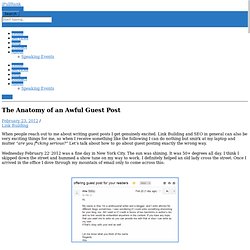 Link Building and SEO in general can also be very exciting things for me, so when I receive something like the following I can do nothing but smirk at my laptop and mutter "are you f*cking serious?" Let's talk about how to go about guest posting exactly the wrong way. How To Find 1,500 Link Prospects in 10 Minutes Flat. There are few link builders I respect as much as Garrett French, the founder of Citation Labs.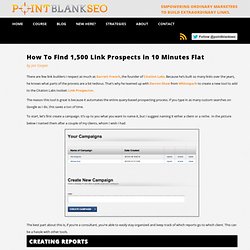 Because he's built so many links over the years, he knows what parts of the process are a bit tedious. That's why he teamed up with Darren Shaw from Whitespark to create a new tool to add to the Citation Labs toolset: Link Prospector. The reason this tool is great is because it automates the entire query-based prospecting process. If you type in as many custom searches on Google as I do, this saves a ton of time. To start, let's first create a campaign. 9 Free Tools For Link Discovery & Content Creation. Every day it seems that there's a new tool out there to monitor, measure, track, and suggest what we should be doing.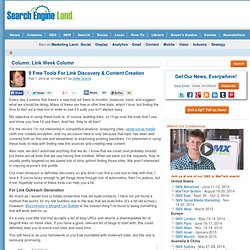 Many of these are free or offer free trials, which I love, but finding the time to test out a new tool in order to see if it suits you isn't always easy. My objective in using these tools is, of course, building links, so I'll go over the tools that I use and show you how I'd use them. And hey, they're all free!! For the record, I'm not interested in competitive analysis, analyzing sites, using social media (with one notable exception, and my exclusion here is only because that topic has been well covered both on this site and elsewhere) or examining existing backlinks.
I'm interested in using these tools to help with finding new link sources and creating new content. Trafficgenerationcafe.visibli.com/share/croacX. The Myth of the Relevant Link | Virante Orange Juice. It is a growing conception of the SEO world that getting links from highly relevant pages is no longer just valuable, but necessary in order to rank.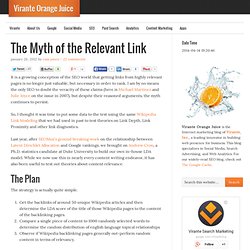 I am by no means the only SEO to doubt the veracity of these claims (here is Michael Martinez and Julie Joyce on the issue in 2007), but despite their reasoned arguments, the myth continues to persist. So, I thought it was time to put some data to the test using the same Wikipedia Link Modeling that we had used in past to test theories on Link Depth, Link Proximity and other link diagnostics.
Last year, after SEOMoz's ground breaking work on the relationship between Latent Dirichlet Allocation and Google rankings, we brought on Andrew Cron, a Ph.D. statistics candidate at Duke University to build our own in-house LDA model. While we now use this in nearly every content writing endeavor, it has also been useful to test out theories about content relevance. How to Build Links Fast: 101 Tips & Strategies.
A Linkbuilder's Gmail Productivity Setup (with Outreach Emails from 4 Industry Linkbuilders) The author's posts are entirely his or her own (excluding the unlikely event of hypnosis) and may not always reflect the views of Moz.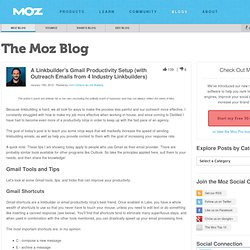 Because linkbuilding is hard, we all look for ways to make the process less painful and our outreach more effective. I constantly struggled with how to make my job more effective when working in-house, and since coming to Distilled I have had to become even more of a productivity ninja in order to keep up with the fast pace of an agency. The goal of today's post is to teach you some ninja ways that will markedly increase the speed of sending linkbuilding emails, as well as help you provide context to them with the goal of increasing your response rate. Scalable Link Outreach with Gmail and Boomerang. 4 Steps To Executing A CRO Approved Link Building Campaign. You know what makes me sick?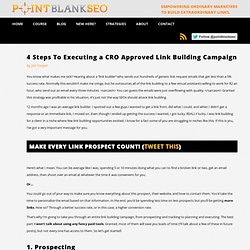 Hearing about a "link builder" who sends out hundreds of generic link request emails that get less than a 5% success rate. Normally this wouldn't make me cringe, but he outsources all of the link building to a few virtual assistants willing to work for $2 an hour, who send out an email every three minutes. <sarcasm> You can guess the emails were just overflowing with quality. </sarcasm> Granted this strategy was profitable in his situation, it's just not the way SEOs should attack link building. 12 months ago I was an average link builder.
GoDaddy's spammy link building techniques. What Building 10,000 Links Taught Me About The Top 3 Link Building Myths (+ 3 Essentials That Work!) Over the past three years, my link builders have built close to 10k links. Each one has been tediously researched and acquired through various methods (and hopefully there are many more that we haven't measured, ones that came about through indirect/passive methods.) While I'd never claim to be a link building expert, I think I can safely say that 10k links is enough to say that we indeed know what works. That being said, let's go through what I think are the top 3 myths about link building. Myth 1: All Paid Links Suck. Template club get PageRank 9 with millions of hidden links - Edgy SEO. Last year I discovered a hidden link on a client site pointing to a template site with a PageRank 9. Wow! How did they get that. After some digging around I found the reason.
SEO Guide to Creating Viral Linkbait and Infographics - Distilled. Eric Ward Answers 10 Questions on BizDev Link Building. Eric Ward is the godfather of link building (just ask Jeff Bezos, who hired Eric to help launch Amazon). I've been learning from him since I started in the SEO industry back in 2001, and continue learning from him to this day through his LinkMoses Private Link Building Newsletter.
Big thanks to Eric for helping continue the BizDev link building interview series that started with Ken McGaffin last month! In this series I'm working to stretch my brain - and yours, dear link builder - into thinking more deeply about link building and its importance to business.
---