Leonardopena
Leonardo Ornellas
ESL Teacher / EdTech Lover
TED: Ideas worth spreading. Gabe Zichermann: How games make kids smarter | Video on TED.com | English 2.0. Kinect in education | English 2.0. Exactly What Role Should Technology Play In Education? - Edudemic | English 2.0. Using multimedia in our classrooms | English 2.0. Stanford Opens Seven New Online Courses for Enrollment (Free) | English 2.0. MIT to Offer Certificates to Students Taking Free Courses on the Web | English 2.0.
Connecting the K-12 Classroom to the 21st Century | DMLcentral | English 2.0. If Earth's Entire History Were Just 24 Hours Long. Added by Jeff Dunn on 2011-10-24 Earth has been around for awhile.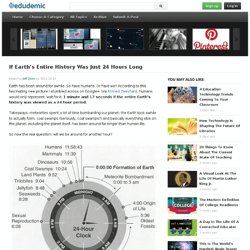 So have humans. Or have we? According to this fascinating new picture I stumbled across on Google+ (via Ahmed Zeeshan ), humans would only represent, wait for it, 1 minute and 17 seconds if the entire Earth's history was viewed as a 24 hour period. Takeaways: meteorites spent a lot of time bombarding our planet; the Earth took awhile to actually form; coal swamps (seriously, coal swamps?) Curation as a 21st Century Skill | Barbara Bray - Creative Learning Strategist. A curator pulls together and oversees collections of materials.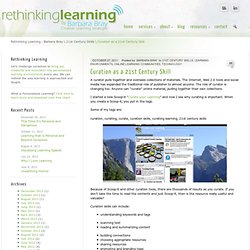 The Internet, Web 2.0 tools and social media has expanded the traditional role of publisher to almost anyone. The role of curator is changing too. Anyone can "curate" online material, pulling together their own collections. The 45 Most Powerful Images Of 2011. GCFLearnFree.org - Reading. Learn to Read English Online at GCFLearnFree.org (provided by Goodwill Community Foundation International) is one of the topics of this awesome website full of content and interactivity totally free.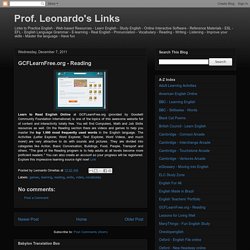 You will find Computers, Math and Job Skills resources as well. On the Reading section there are videos and games to help you master the top 1,000 most frequently used words in the English language. The Activities (Letter Explorer, Word Explorer, Text Explorer, Word Videos, and much more!) Are very attractive to do with sounds and pictures. Free Technology for Teachers: 15 Things Teachers & Students Can Do With Edmodo | English 2.0. Free Online Learning at GCFLearnFree.
The New York Times - Breaking News, World News & Multimedia. An Education Revolution: Automate and Humanize! | English 2.0. Lessons for digital natives | English 2.0. Predicting the Future of Computing - Interactive Feature. Web 2.0 and Language Teaching · leonardolinks. English 2.0 by Leonardo Pena on Prezi. English 2.0. English 2.0. English 2.0 Tools. Facebook and Grades | English 2.0. Sharing Trends in 2011. The response to our inforgraphic on sharing trends from 2010 was so high, we knew we had to follow up this year.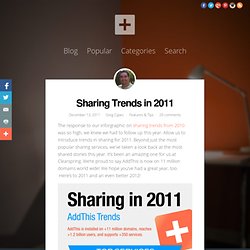 Allow us to introduce trends in sharing for 2011. Beyond just the most popular sharing services, we've taken a look back at the most shared stories this year. It's been an amazing one for us at Clearspring. The Education Technologies That Educators Believe Can Have The Biggest Impact On Student Learning (Survey Results) | Emerging Education Technology | English 2.0. The Benefit and Danger of Education Technology - Edudemic | English 2.0. How To Get More Out Of Google. How Do We Prepare Students For Jobs That Don't Exist Yet? Education has truly come a long way.
However, it still has a very long way to go. Thanks to social networks like Twitter, teachers are able to collaborate and share resources like never before. But what about students? International Society for Technology in Education - Blog > Top 5 Free Web Tools You Can Use in Your Classroom | English 2.0. How the Flipped Classroom Is Radically Transforming Learning. Editor's Note:Posts about the flipped class on The Daily Riff beginning in January 2011 have generated over 240,000 views to-date - thanks contributors and readers . . .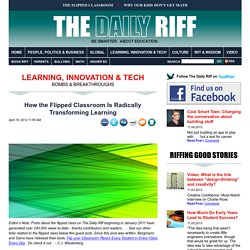 See our other links related to the flipped class below this guest post. Since this post was written, Bergmann and Sams have released their book, Flip your Classroom: Reach Every Student in Every Class Every Day. Do check it out. - C.J. Westerberg. How 5 Tech Giants Are Giving Back to Education | English 2.0. Obvious to You, Amazing to Others Animated by Plainly Simple Studios. For Schools. Welcome to YouTube!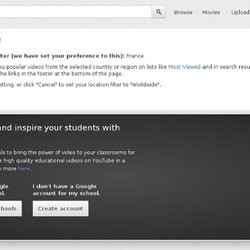 The location filter shows you popular videos from the selected country or region on lists like Most Viewed and in search results.To change your location filter, please use the links in the footer at the bottom of the page. Click "OK" to accept this setting, or click "Cancel" to set your location filter to "Worldwide". The location filter shows you popular videos from the selected country or region on lists like Most Viewed and in search results. Google Presents YouTube for Schools, Makes Video World Safe for Teachers | English 2.0. Online Education: Is It Right For You? [Infographic] | English 2.0. Good to Know – Google. 10 High-Tech Ways To Teach Complex Lessons - Edudemic | English 2.0. High Tech Schools: 7 Innovative Ways Teachers Are Using Tech In The Classroom | English 2.0. 4 easy ways to incorporate technology into ELT (for you and your students) | English 2.0.
The 100 Best Web 2.0 Classroom Tools Chosen By You | Edudemic | English 2.0. » 100+ examples of use of social media for learning C4LPT | English 2.0. 5 Best Practices for Educators on Facebook | English 2.0. » Top Tools 2011 C4LPT | English 2.0. Top 100 Tools for Learning 2011. 20 Ways to Use Edmodo. Invalid quantity.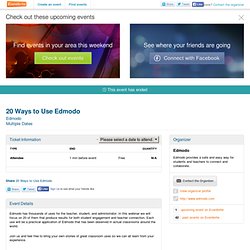 Please enter a quantity of 1 or more. The quantity you chose exceeds the quantity available. Please enter your name. Please enter an email address. Please enter a valid email address. 5 Resolutions to Get Your Year Started Right: A Holiday eCard from Atomic Learning | English 2.0. The 10 biggest ed-tech stories of 2011 | eSchool News | English 2.0.
---