Synthetic Biology
The ideal software developed for you to design sequences de novo without being limited by what nature can provide. Gene Designer 2.0 encompasses a complete and visually rich set of tools to bring your creative ideas to completion. The DNA design tool for today's molecular biologists Capture your entire gene design process in one efficient application, using a range of design tools purposely built for the task: Intelligent, fast, and easy-to-use algorithms for in silico cloning, codon optimization, back translation and primer design.
GeneDesigner2
Trends in Cell Biology - Table of Contents - Volume 22 Issue 12, December 2012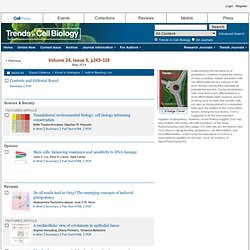 It is well-established that high levels of reactive oxygen species (ROS) – the by-product of our power plants (mitochondria) - are harmful to cells. Low levels of mitochondrial ROS are now shown to play a 'good' role in cells, resulting in the exit from quiescence of haematopoietic stem cells. In this issue, Maryanovich and Gross (pages 129–134) review evidence for the existence of a mitochondrial 'ROS rheostat' that monitors cellular fates. The cover art depicts mitochondria power plants that can generate high levels of ROS (red pollution) or low levels of ROS (white pollution), and in the middle the ROS rheostat that plays a role in regulating cell fate.
welcome to the mcmanus lab! | McManus Lab
Table of Contents — July 2012, 40 (W1)
InterPreTS - Interaction Prediction through Tertiary Structure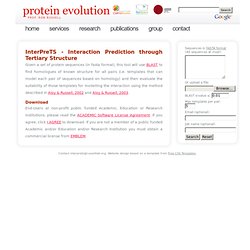 Given a set of protein sequences (in fasta format), this tool will use BLAST to find homologues of known structure for all pairs (i.e. templates that can model each pair of sequences based on homology) and then evaluate the suitability of those templates for modelling the interaction using the method described in Aloy & Russell, 2002 and Aloy & Russell, 2003 . Download End-Users at non-profit public funded Academic, Education or Research Institutions, please read the ACADEMIC Software License Agreement . If you agree, click I AGREE to download. If you are not a member of a public funded Academic and/or Education and/or Research Institution you must obtain a commercial license from EMBLEM .
IBIS
BBCU - Sequence Analysis/Promoters
Remotely Activated Protein-Producing Nanoparticles - Nano Letters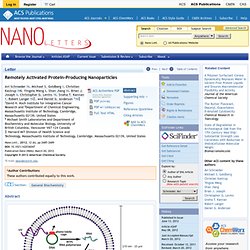 Avi Schroeder † ‡ , Michael S. Goldberg † , Christian Kastrup † ‡ § , Yingxia Wang ‡ , Shan Jiang † ‡ , Brian J. Joseph ‡ , Christopher G.
Solve for X: Juan Enriquez on harnessing synthetic genetics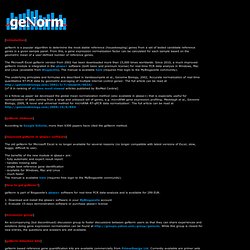 geNorm normalization of real-time PCR expression data
[ introduction ] geNorm is a popular algorithm to determine the most stable reference (housekeeping) genes from a set of tested candidate reference genes in a given sample panel. From this, a gene expression normalization factor can be calculated for each sample based on the geometric mean of a user-defined number of reference genes. The Microsoft Excel geNorm version from 2002 has been downloaded more than 15,000 times worldwide.
Uma das grandes maravilhas da humanidade – objeto de grande satisfação entre os químicos – é uma tabela que nos diz tudo o que existe no universo, os cerca de 120 elementos que formam tudo aquilo que o ser humano conseguiu perceber. Usando essa mesma ideia, cientistas conseguiram determinar 12 substâncias principais que podem produzir tudo… o que existe dentro de uma célula! Esse é um dos princípios fundamentais da Engenharia Metabólica, entenda o porquê:
Entenda a Engenharia Metabólica | SynbioBrasil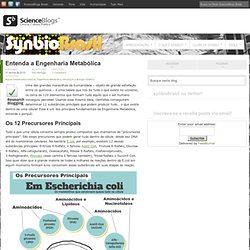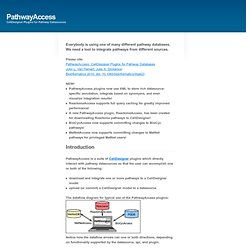 Everybody is using one of many different pathway databases. We need a tool to integrate pathways from different sources. Please cite: PathwayAccess: CellDesigner Plugins for Pathway Databases John L. Van Hemert; Julie A. Dickerson Bioinformatics 2010; doi: 10.1093/bioinformatics/btq423
PathwayAccess