google
Get flash to fully experience Pearltrees
Lors d'un programme pilote ou d'une migration des données, il est très fréquent d'utiliser le serveur de messagerie préexistant comme serveur principal.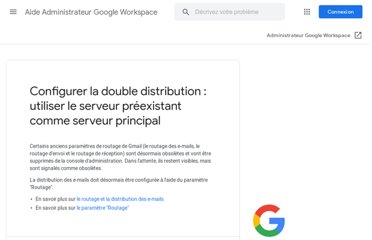 If a potential customer has a Google Apps, Google Apps for Business, or a direct Google Apps for Business 30 day free trial account and wants to register with your reseller management, you need the customer's transfer token. If you have access, you can get the token or the customer can send you a transfer token.
Google Apps is a service from Google providing independently customizable versions of several Google products under a custom domain name . It features several Web applications with similar functionality to traditional office suites , including Gmail , Google Groups , Google Calendar , Talk , Docs and Sites . It was the vision of Rajen Sheth, a Google employee who later developed Chromebooks. [ 1 ]
Le fait de collectionner le nombre de fans sans but précis n'est pas suffisant.
Une étude du groupe Forrester établit que les coûts reliés au courriel sont souvent sous-estimés par les entreprises. L'étude de Forrester estime que l'ensemble des coûts reliés aux courriels représente 25,16$ par mois par usager lorsque l'entreprise utilise sa propre infrastructure et acquiert les licences. En contrepartie, un service équivalent chez Google coûtera 8,47$ par mois.