Fileserver et annuaire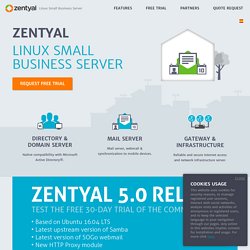 This website uses cookies for security reasons, to manage registered user sessions, interact with social networks, analyze visits and activities of anonymous or registered users, and to keep the selected language in your navigation through our pages. Any action other than blocking these cookies with this tool implies consent for installation and usage.Privacy Policy You can disable social network and analysis cookies with this application, or subsequently delete them through your browser options. The rest of the cookies are required for providing our services, so its rejection may affect website access and functionalities.
Zentyal – The Linux Small Business Server
ClearOS | Overview | Software
Are you a ClearFoundation community member? The open source revolution in the software industry has made it possible to provide ClearOS to community members at no cost. Among other features, Antivirus, Antispam, VPN and Content Filtering are built right into the software, while also providing a simple Marketplace to add on additional services if desired. With ClearOS, you can avoid costly vendor lock-in and proprietary formats; instead, you can embrace open standards and protocols. For those looking for a production edition, ClearOS Community is also where we ensure proper function & test udpates, and thus provide a quality tested edition with ClearOS Professional.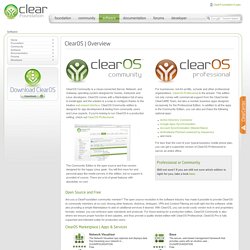 The security update for the OpenSSL Heartbeat issue has been released for the ClearOS Professional Edition. The update for the Community Edition should be available in the next 12-48 hours. You can find more information about this update here.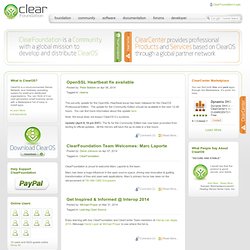 A Linux server OS that's fiddly but tweakable
High performance access to file storage Review ClearOS is the new name for Point Clark Network's ClarkConnect, which was a commercial server distro, released in 2000, with a limited free version. Now, though, Point Clark has restructured and the distro is managed by ClearConnect, which has made it free and open source.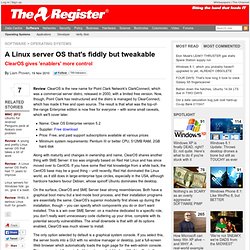 Veeam® is Modern Data Protection™. We believe today's IT requirements have changed and that "3C" legacy backup problems—high costs, increased complexity and missing capabilities—are no longer acceptable for any organization. Veeam provides powerful, easy-to-use and affordable solutions that are Built for Virtualization™ and the Cloud—a perfect fit for the modern data center. Virtualization Management
Veeam VMware vSphere, ESX & ESXi Backup and Virtualization Management | VMBackupWorks.com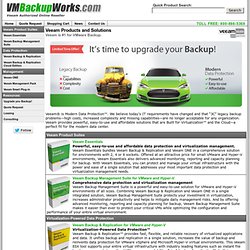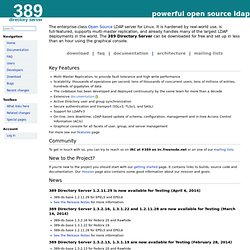 389 Directory Server (Open Source LDAP)
From Port389 The enterprise-class Open Source LDAP server for Linux. It is hardened by real-world use, is full-featured, supports multi-master replication, and already handles many of the largest LDAP deployments in the world. The 389 Directory Server can be downloaded for free and set up in less than an hour using the graphical console.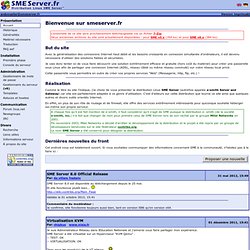 smeserver.fr | Bienvenue sur smeserver.fr
Vous l'avez peut-être remarqué, depuis quelques jours le site a connu plusieurs périodes d'indisponibilité. La cause en est la mort très prématurée de la carte-mère de mon serveur (Shuttle K45) ! Il m'a donc fallu diagnostiquer la panne, essayer de réparer (remplacement difficile et sans effet d'un condensateur gonflé), trouver une nouvelle carte-mère compatible avec SME et le boitier (mini-ITX), remplacer la carte, reconfigurer le système (kudzu, chargement du module ahci, reconstruction de l'initrd), modification de scripts de sauvegarde, monitoring, etc. J'ai profité de l'occasion pour remplacer tous les disques dur par des modèles de plus grande capacité, avec augmentation de la taille de la "partition" RAID /dev/md2, du PhysicalVolume main, du LogicalVolume files et de son système de fichiers.
VMware vSphere For Small and Midsize Business | VirtualizationWorks.com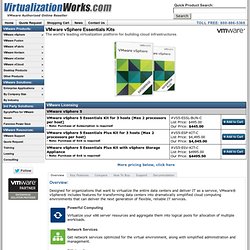 Overview: Designed for organizations that want to virtualize the entire data centers and deliver IT as a service, VMware® vSphere® includes features for transforming data centers into dramatically simplified cloud computing environments that can deliver the next generation of flexible, reliable IT services. What is vSphere? VMware vSphere is the industry-leading virtualization platform for building cloud infrastructures. It enables IT to meet SLAs (service-level agreements) for the most demanding business- critical applications, at the lowest TCO (total cost of ownership). vSphere accelerates the shift to cloud computing for existing data centers and also underpins compatible public cloud offerings, forming the foundation for the industry's only hybrid cloud model. With the support of more than 3,000 applications from more than 2,000 ISV partners, vSphere is the trusted platform for any application.