Fav Occupy Moments
No one can really say what unique coincidence of events and factors caused OWS to break into mainstream consciousness when so many well-intentioned and smartly planned protests with similar messages fell flat in the months leading up to it, but certainly the encampments were crucial (crucial though not sufficient, since one protest that took place shortly before OWS actually involved camping). By taking space and holding it OWS has captivated America like no protest movement in recent memory. Yet the crackdowns on occupations across the country have shown it will be difficult, if not impossible, to maintain these bastions of resistance moving forward: We are simply outnumbered, outfunded, and outgunned. While some groups, like Occupy Oakland, have heroically attempted to reclaim the space from which they were ousted, they have been rebuffed each time by overwhelming force.
Beyond The Choir:: Occupy & Space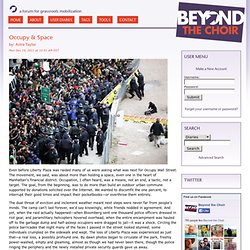 How it works at Occupy Wall Street 9/25/11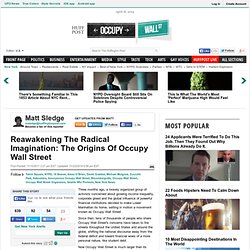 Three months ago, a loosely organized group of activists concerned about growing income inequality, corporate greed and the global influence of powerful financial institutions decided to make Lower Manhattan its home, setting in motion a movement known as Occupy Wall Street. Since then, tens of thousands of people who share Occupy Wall Street's concerns have taken to the streets throughout the United States and around the globe, shifting the national discourse away from the federal deficit and toward financial woes of a more personal nature, like student debt. Now Occupy Wall Street is much larger than its initial small group of organizers. President Barack Obama and Federal Reserve Chairman Ben Bernanke have given it a nod.
Reawakening The Radical Imagination: The Origins Of Occupy Wall Street
Yesterday, a group affiliated with Occupy Wall Street submitted an astounding comment letter to the Securities and Exchange Commission. Point by point, it methodically challenges the arguments of finance industry lobbyists who want to water down last year's historic Dodd-Frank Wall Street reforms. The lobbyists have been using the law's official public comment period to try to kneecap the reforms, and given how arcane financial regulation can be, they might get away with it. But Occupy the SEC is fighting fire with fire, and in so doing, defying stereotypes of the Occupy movement.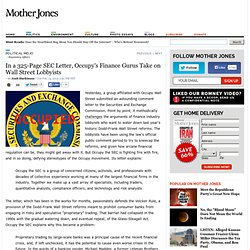 In a 325-Page SEC Letter, Occupy's Finance Gurus Take on Wall Street Lobbyists
An 'excess of democracy': what two generations of radicals can learn from each other | Red Papper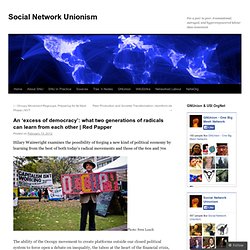 Hilary Wainwright examines the possibility of forging a new kind of political economy by learning from the best of both today's radical movements and those of the 60s and 70s Photo: Sven Loach The ability of the Occupy movement to create platforms outside our closed political system to force open a debate on inequality, the taboo at the heart of the financial crisis, is impressive.
The Black Bloc anarchists, who have been active on the streets in Oakland and other cities, are the cancer of the Occupy movement. The presence of Black Bloc anarchists—so named because they dress in black, obscure their faces, move as a unified mass, seek physical confrontations with police and destroy property—is a gift from heaven to the security and surveillance state. The Occupy encampments in various cities were shut down precisely because they were nonviolent.
Black Bloc: The Cancer in Occupy | Truthout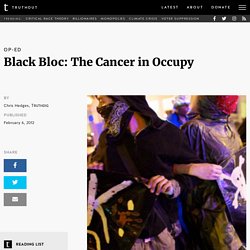 Auctioneer: Stop All The Sales Right Now!