Permaculture
Organic christmas ornaments
Watersafe Well Water Test -- The Fresh Network. Sheet mulching technique: Convert lawn to garden. The best way to convert a lawn into a garden does not employ a shovel or a sod cutter and will save wear and tear on back muscles.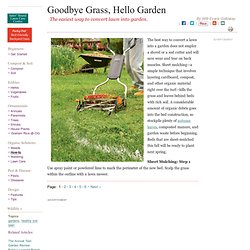 Sheet mulching—a simple technique that involves layering cardboard, compost, and other organic material right over the turf—kills the grass and leaves behind beds with rich soil. A considerable amount of organic debris goes into the bed construction, so stockpile plenty of autumn leaves, composted manure, and garden waste before beginning. Beds that are sheet-mulched this fall will be ready to plant next spring. Reading List. This is a list of books that we recommend to students who complete our Permaculture courses.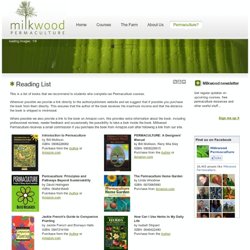 Wherever possible we provide a link directly to the author/publishers website and we suggest that if possible you purchase the book from them directly. This ensures that the author of the book receives the maximum income and that the distance the book is shipped is minimised. Where possible we also provide a link to the book on Amazon.com, this provides extra information about the book, including professional reviews, reader feedback and occasionally the possibility to take a look inside the book. Milkwood Permaculture receives a small commission if you purchase the book from Amazon.com after following a link from our site. How to Crowdfund Your Permaculture Project.
A friend recently returned to the UK from Portugal.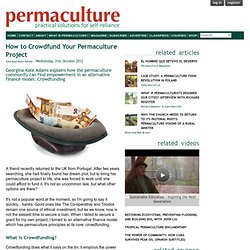 After two years searching, she had finally found her dream plot, but to bring her permaculture project to life, she was forced to work until she could afford to fund it. It's not an uncommon tale, but what other options are there? It's not a popular word at the moment, so I'm going to say it quickly... banks. Good ones like The Co-operative and Triodos remain one source of ethical investment, but as we know, now is not the easiest time to secure a loan.
How to Extend Your Growing Season. Your vegetable garden is most likely at its peak of production right about now, with basketloads of summer favorites ripening every day.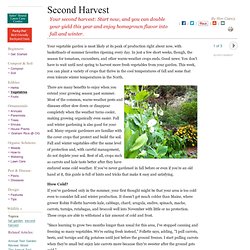 In just a few short weeks, though, the season for tomatoes, cucumbers, and other warm-weather crops ends. Good news: You don't have to wait until next spring to harvest more fresh vegetables from your garden. This week, you can plant a variety of crops that thrive in the cool temperatures of fall and some that even tolerate winter temperatures in the North. There are many benefits to enjoy when you extend your growing season past summer. Most of the common, warm-weather pests and diseases either slow down or disappear completely when the weather turns cooler, making growing organically even easier. Free Documentary Films Archive - Permaculture Media Blog. Permaculture Design for Orphans and Vulnerable Children Programming – Free eBook // May 1st, 2012 // Uncategorized A promising development approach for addressing food and nutrition insecurity for orphans and vulnerable children (OVC) is permaculture. In the context of OVC programming, permaculture helps guide communities toward permanent solutions for food and nutrition security, while ensuring that these options exist harmoniously within their environment. Changemakers: The Revolution Solution. Best of Permaculture online July 2012.
---