Jobs
Get flash to fully experience Pearltrees
Pharmaceutical Sales Reps & Entry Level Pharmaceutical Sales Our clients include many of the major pharmaceutical companies in the United States .​ Several are undergoing a major national expansion due to the overwhelming acceptance of their new medication and have asked us to locate a new sales representative for product launches as well as selling their other prescription drugs.​
SymphonyIRI Group is an exciting place to be today Come join the global network of talented professionals at SymphonyIRI Group - an exciting place to be today, as we continue to help our partners grow their business profitably in today's complex marketplace. Since its inception in 1979, SymphonyIRI Group has been dedicated to delivering consumer, shopper, and retail insights that enable faster and better decisions for dramatic business outcomes.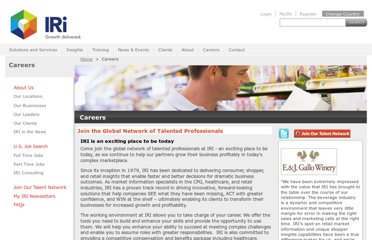 We're the world's leading name in security solutions, a FTSE 100 company and one of the world's largest employers As such we offer our employees an immense range of exciting, rewarding and long term career opportunities where they can really make a difference in a meaningful way. You simply won't find the variety and diversity of career opportunities anywhere else.