Cairo outburts
Curating the Revolution: Building a Real-Time News Feed About Egypt - Phoebe Connelly - Technology. Andy Carvin is a senior strategist at NPR working on digital media.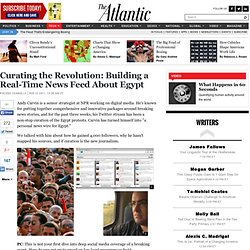 He's known for putting together comprehensive and innovative packages around breaking news stories, and for the past three weeks, his Twitter stream has been a non-stop curation of the Egypt protests. Carvin has turned himself into "a personal news wire for Egypt. " Jörg M Colberg discusses why events in #Egypt... | Hyperallergic LABS. Noor Group, Egypt's last Internet service provider, shuts down | Technology | Los Angeles Times. Noor Group -- Egypt's single holdout in the Internet blackout that began Friday -- has suspended its service.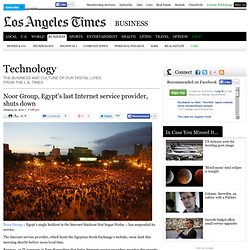 The Internet service provider, which hosts the Egyptian Stock Exchange's website, went dark this morning shortly before noon local time. Renesys, an IT company in New Hampshire that helps Internet service providers monitor the security of Web networks and infrastructure, reported the Noor drop-off this morning on its blog. The Egyptian government shut down nearly all access to the Internet within its borders Friday in an effort to stop the growing protests against the government of President Hosni Mubarak. Égypte. Egypte. EGYPT CIVIL WAR:30.01.2011-Fighter Jets Fly Above Egypt Protesters. EGYPT-REVOLUTION-أنتفاضة الشعب المصري. Egypt - Fierce Clashes in Alexandria (29-Jan-11)(REVOLUTIONARY TIMES series - Politics) AlJazeera English (AJEnglish) Live blog 30/1 - Egypt protests. From our headquarters in Doha, we keep you updated on all things Egypt, with reporting from Al Jazeera staff in Cairo, Alexandria, and Suez.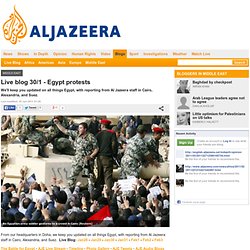 Live Blog: Jan28 - Jan29 - Jan30 - Jan31 - Feb1 - Feb2 - Feb3 The Battle for Egypt - AJE Live Stream - Timeline - Photo Gallery - AJE Tweets - AJE Audio Blogs (All times are local in Egypt, GMT+2) 11:54pm In an Open Letter to President Obama, a large group of well-reputed American academics calls for the US leader to demand swift change in Egypt: Egypt's protests on Twitter - Middle East. Search - #Egypt. UK citizens told to leave Egyptian cities after unrest.
30 January 2011Last updated at 22:39 Foreign Secretary William Hague: "We keep our travel advice under careful and constant review" British nationals in Cairo, Alexandria and Suez are being told to leave if it is safe for them to do so, following days of violent protests across Egypt.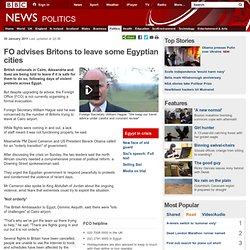 But despite upgrading its advice, the Foreign Office (FCO) is not currently organising a formal evacuation. Foreign Secretary William Hague said he was concerned by the number of Britons trying to leave at Cairo airport. While flights were coming in and out, a lack of staff meant it was not functioning properly, he said. Egyptian soldiers show solidarity with protesters as Mubarak appoints VP. CAIRO - Under the protective gaze of Egyptian soldiers, thousands of demonstrators converged on this capital city's central plaza Sunday and vowed to occupy the site until President Hosni Mubarak steps down.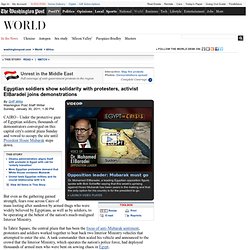 But even as the gathering gained strength, fears rose across Cairo of mass looting after sundown by armed thugs who were widely believed by Egyptians, as well as by soldiers, to be operating at the behest of the nation's much-maligned Interior Ministry. In Tahrir Square, the central plaza that has been the focus of anti-Mubarak sentiment, protesters and soldiers worked together to beat back two Interior Ministry vehicles that attempted to enter the site.
A tank commander then scaled his vehicle and announced to the crowd that the Interior Ministry, which operates the nation's police force, had deployed thousands of armed men who were bent on sowing chaos in Egypt. The army, he said, "would stand with the people. " Photo : yfrog.com/h2anjgj - Shared by abanidrees. Egyptian Intifada - Imbaba - Images | Matthew Cassel Photography. Al Jazeera English: Live Stream - Watch Now.
---