Cosplay
Steampunk Portal | theLAWL
Leather Steampunk Belt Bag by MisfitLeather on Etsy
Search Results - Got-Steam.com - A Steampunk Emporium
Black underbust playsuit
So, my boyfriend came home with a bag of metal gears the other day. I went through it and picked out the ones that appealed to me the most (we're using them for totally different purposes so the ones I like are rarely the ones he wants to use) and got to it. This one MOVES! The larger wheel turns while the smaller wheel on top stays in place and the ratchet arm clicks over each cog. There are more but I hate to flood you guys with photos!
Steampunkilicious: gear rings (picture heavy) and a necklace or two. - JEWELRY AND TRINKETS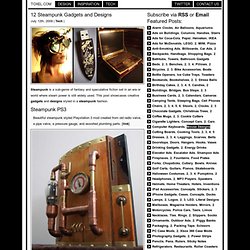 Steampunk is a sub-genre of fantasy and speculative fiction set in an era or world where steam power is still widely used. This post showcases creative gadgets and designs styled in a steampunk fashion. Steampunk PS3 Beautiful steampunk styled Playstation 3 mod created from old radio valve, a pipe valve, a pressure gauge, and assorted plumbing parts. [link] Steampunk Segway (Legway)
Steampunk Costumes & Neo-Victorian Outfits for Women | BRASKY
Please go to the Menu section, create a menu and then select the newly created menu from the Theme Locations box from the left. TwitterFacebook Homepage > > 35 Steampunk & Neo-Victorian Costumes & Outfits for Women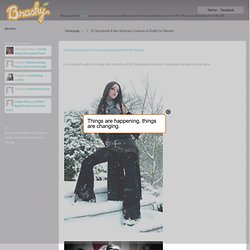 1274862969_tn.jpg (JPEG Image, 486x650 pixels)
Guest author and friend-of-the-blog Dylan Boynton invites you to familiarize yourself with the music of Amon Tobin, weighing... This is not Animal Collective.On July 7th, Orlando's Beacham Theatre will host the return of Animal Collective to the... Miami's Circuitree Records has announced the first of 4 compilations to be released this year. Universus Vol. 1 features... To fully honor all the music review and news following we did during 2010, it seemed appropriate to provide a list of "top"...
Steampunk & Clockwork Couture Inspired Fashion | BRASKY
3 Ring Steampunk leather Fashion Underbust by MisfitLeather
Steampunk Wooden Bullet Wrist Cuff by MagnoliaLeatherWorks on Etsy