Galeries
Marian Goodman Gallery
Museu d'Art Contemporani de Barcelona
I Will Not Make Any More Boring Art, John Baldessari (National City, California, 1931) writes over and over again in an exercise book in a video dating from 1971. That aversion to boredom has led the artist to flee from the slightest hint of monotony throughout his career, and to draw on an eclectic range of media and formats to express his insightful reflections on artistic creation and its limits. John Baldessari.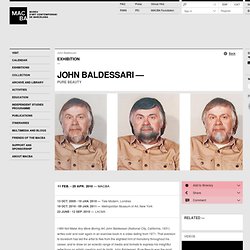 Bienvenue sur le site de l'Association des Galeries d'Art Parisiennes,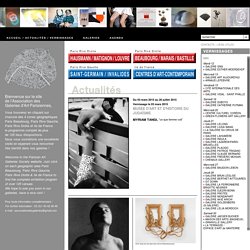 Accueil / Actualités / Vernissages
"Géométrie virtuelle" | Cambodge - France | Phnom Penh - Paris -
Jon Rafman: The Nine Eyes of Google Street View 26 July - 3 September, 27 September - 7 October, 14 October - 4 November In 2007 Google sent out an army of hybrid electric automobiles, each one bearing nine cameras on a single pole. Armed with a GPS and three laser range scanners, this fleet of cars began an endless quest to photograph every highway and byway in the free world.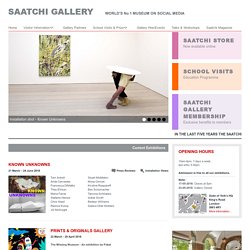 GUESTS - Galeries
ARTPARIS+GUESTS compte 106 exposants 7 plateformes géographiques et culturelles spectaculaires. 40 nouveaux exposants emblématiques. 28 galeries qui s'associent à des "Guests" pour souligner les approches croisées de la création contemporaine.
Accueil / Home
Galerie Anhava
ARTPARIS+GUESTS ouvre les limites des salons d'art traditionnels et crée un nouveau format de foire d'art moderne et contemporain centré non plus sur une succession de stands mais sur des projets artistiques exclusifs. Agir au delà des frontières Les galeries ont la possibilité de coproduire leur projet avec : d'autres galeries ou artistes internationaux des collectionneurs, fondations, musées, curateurs… ou bien encore des designers, écrivains, cinéastes, architectes, créateurs de mode, musiciens, grandes signatures de la gastronomie…
GUESTS - Présentation
Museu d'Art Contemporani de Barcelona
pageacte2galerie
Philippe Assalit EXPOSITION "TÊTE À TÊTE" du 29 avril au 12 juin 2009 Deux visages, deux visions qui se confrontent comme dans un jeu de miroirs (Je 2 Miroirs), des images se faisant échos à travers la force de l'autoportrait. Un véritable vis-à-vis se met en place ou individuellement chacun pénètre l'univers du « regard posé sur soi ». Par ce « Tête à Tête », deux mondes s'entrechoquent pour dénoncer avec une même force des thématiques qui leur tiennent à cœur.