SEO
10 htaccess Hacks Every SEO Should Know | There's a lot that you can do with an htaccess file, and of course, things can get pretty advanced in a hurry.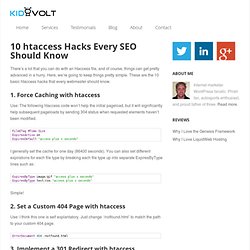 Here, we're going to keep things pretty simple. These are the 10 basic htaccess hacks that every webmaster should know. 1. Force Caching with htaccess. Seo. 10 SEO Techniques All Top Web Sites Should Use | Freelance Folder | The Blog For Freelancers And Web-Workers. The Web Developer's SEO Cheat Sheet. The author's posts are entirely his or her own (excluding the unlikely event of hypnosis) and may not always reflect the views of Moz. February 16, 2014 - Updated to Version 2.2: We've uploaded a brand new version of the PDF. It now reflects changes to Google's mobile user-agents. It is my honor and privilege today to introduce the brand-new version of The Web Developer's SEO Cheat Sheet. This free and downloadable document covers all of the important SEO code and best practices that are needed by online marketers and developers. Creating a Sweet High Value Keyword List in 5 Minutes : SEO Book.com. SEO Best Practices: SEOmoz's New Policies Based on Updated Correlation Data. Title tags—technically called title elements—define the title of a document.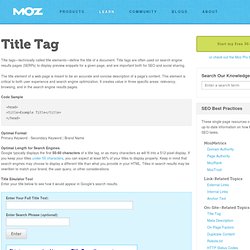 Title tags are often used on search engine results pages (SERPs) to display preview snippets for a given page, and are important both for SEO and social sharing. The title element of a web page is meant to be an accurate and concise description of a page's content. This element is critical to both user experience and search engine optimization. It creates value in three specific areas: relevancy, browsing, and in the search engine results pages. Code Sample.
---