Leidjil
wolff
Jeune étudiante en publicité en soif de savoir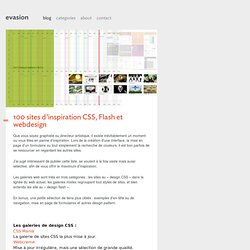 100 sites d'inspiration CSS, Flash et webdesign - Webdesign
Que vous soyez graphiste ou directeur artistique, il existe inévitablement un moment ou vous êtes en panne d'inspiration. Lors de la création d'une interface, la mise en page d'un formulaire ou tout simplement la recherche de couleurs, il est bon parfois de se ressourcer en regardant les autres sites. J'ai jugé intéressant de publier cette liste, se voulant à la fois vaste mais aussi sélective, afin de vous offrir le maximum d'inspiration. Les galeries web sont triés en trois catégories : les sites au « design CSS » dans la lignée du web actuel, les galeries mixtes regroupant tout styles de sites, et bien entendu les site au « design flash ». En bonus, une petite sélection de liens plus ciblés : exemples d'en-tête ou de navigation, mise en page de formulaires et autres design pattern.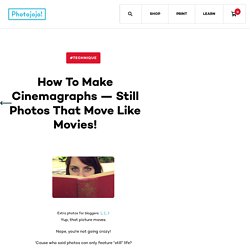 Yup, that picture moves. Nope, you're not going crazy! 'Cause who said photos can only feature "still" life? Inspired by the moving pictures created by photographer and motion designer duo Jamie Beck and Kevin Burg, we set out to make the magic happen. Make your pictures move like ours did with a some Photoshop magic! Make DIY Moving Photos!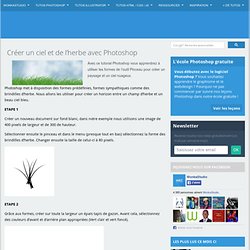 Créer un ciel et de l'herbe avec Photoshop -
Avec ce tutorial Photoshop vous apprendrez à utiliser les formes de l'outil Pinceau pour créer un paysage et un ciel nuageux.
Most Popular Fonts of 2011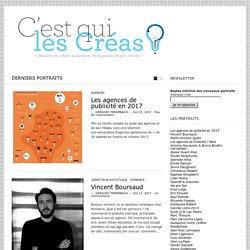 You're creative at DDB Paris, what is your background? I grew up in Sofia, Bulgaria where I lived until I was 19. After studying in Scotland (Philosophy and English lit.) for one year, I got bored with analyzing what other people did and started looking for a more design-oriented school. I stumbled upon Miami Ad... Bonjour Bernard tu es un créatif freelance, quel a été ton parcours ? Tout d'abord, je ne suis pas un créatif freelance: je suis un créatif qui fait des freelances en attendant qu'une agence intéressante se décide à lui faire une petite place.