Google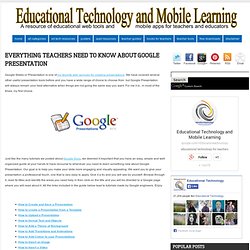 Everything Teachers Need to Know about Google Presentation
Google Slides or Presentation is one of my favorite web services for creating presentations. We have covered several other useful presentation tools before and you have a wide range of choice to choose from but Google Presentation will always remain your best alternative when things are not going the same way you want. For me it is , in most of the times, my first choice. Just like the many tutorials we posted about Google Docs, we deemed it important that you have an easy, simple and well organized guide at your hands to have recourse to whenever you need to learn something new about Google Presentation. Our goal is to help you make your slide more engaging and visually appealing.
The Comprehensive Guide to Google Free Tools for Teachers and Students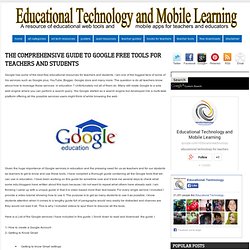 Google has some of the best free educational resources for teachers and students. I am one of the biggest fans of some of his services such as Google plus, YouTube, Bogger, Google docs and many more. The question is do all teachers know about how to leverage these services in education ? Unfortunately not all of them do. Many still relate Google to a sole web engine where you can perform a search query. Yes Google started as a search engine but developed into a multi-task platform offering all the possible services users might think of while browsing the web.
Ask your students which search engine they use and I am sure almost all of them will cite Google as their first choice.Probably if you ask yourself the same question you might get the same answer as well. Undeniably Google is a powerful search engine that has a domineering presence on the web and although it is relatively young compared with some other search engines such as Yahoo and Altavista, yet it has grown to become the backbone of the entire net. I personally can not imagine internet without Google, you might not necessarily share with me the same love towards this web service but we can agree on its centrality in our students digital learning.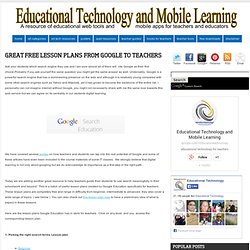 Great Free Lesson Plans from Google to Teachers
Google has recently conducted a massive operation to improve its services from Google Maps to Google Docs. This latter in particular has known some radical changes that would definitely increase users productivity. Just yesterday we posted here in Educational Technology and Mobile Learning about how Google made it possible for Google Docs users to access all of its services by one click.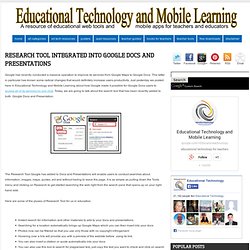 Research Tool Integrated into Google Docs and Presentations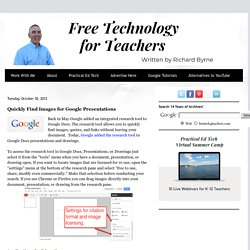 Quickly Find Images for Google Presentations
Back in May Google added an integrated research tool to Google Docs. The research tool allows you to quickly find images, quotes, and links without leaving your document. Today, Google added the research tool to Google Docs presentations and drawings.
Google Good to Know - Tips for Online Safety and More
Google Earth is a very versatile program that educators often associate only with social studies. Google Earth can actually be used in literature, mathematics, and science lessons too. On November 2, 2012 Jerome Burg and Thomas Petra will host a Google+ Hangout all about using Google Earth in education. Jerome Burg is the creator of the excellent Google Lit Trips site and Thomas Petra is the creator of the fantastic Real World Math site.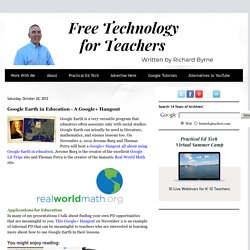 Google Earth in Education - A Google+ Hangout
A List of Great Google Apps for your iPad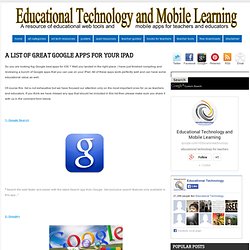 So you are looking fog Google best apps for iOS ? Well you landed in the right place. I have just finished compiling and reviewing a bunch of Google apps that you can use on your iPad. All of these apps work perfectly well and can have some educational value as well. Of course this list is not exhaustive but we have focused our attention only on the most important ones for us as teachers and educators. If you think we have missed any app that should be included in this list then please make sure you share it with us in the comment form below.
Do the Two Step to Protect Your Google Drive, Dropbox, and Box Files
Cloud storage of files is one of my favorite aspects of the modern Internet. Cloud storage services make it easy to access all of my important files from any computer and most mobile devices. And for students cloud storage eliminates the I forgot my flashdrive excuse for not having an assignment ready for class. The potential problem with cloud storage, and any other online service for that matter, is having your account compromised. One way to make it more difficult for your account to be compromised is to enable two-step authentication. Two-step authentication for a Google account requires entering a verification code that Google sends to your cell phone.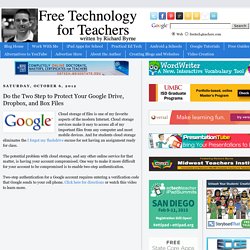 Google Across the Curriculum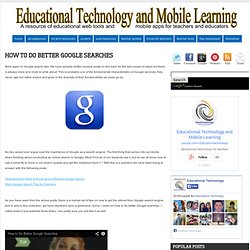 Back again to Google search tips. We have already written several posts on this topic for the last couple of years but there is always more and more to write about. This is probably one of the fundamental characteristics of Google services; they never age but rather evolve and grow in the diversity of their functionalities as years go by. No two would ever argue over the importance of Google as a search engine. The first thing that comes into our minds when thinking about conducting an online search is Google.
How to Do Better Google Searches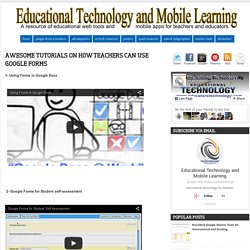 Google Forms is a great free service for us in education. It is part of the free tools Google Docs offers to its users. Google Forms has a huge potentail for classroom teaching and teachers can do a myriad of tasks with it. As an example, instead of going looking for quiz forms others have created and that might not suit your teaching purposes why not learn how to create your own forms. Testing forms is just an example and of course there are many other things you can do with forms .
Awesome Tutorials on how Teachers can Use Google Forms
We have recently been publishing a series of articles on Google Docs. The purpose behind this series is to make teachers and educators aware of the potential of this free service. You can consult this link if you have missed the previous publications. Today, however, we are adding to to this series an awesome slideshow we found online. This might be your guide to explore how to use Google Docs for writing purposes. I really find it very useful especially to use with students in the class.
How Teachers Can Use Google Docs as A Writing Tool
Report: Vast Majority Of Top U.S. Schools Use Google Apps
Track Hurricane Sandy Using The Google Crisis Map 1.07K Views 0 Likes If you're on the east coast like we are, you've got a pit in your stomach about Hurricane Sandy. It's shaping up to be brutal and there's talk of widespread power outages and dangerous flooding and winds. In an effort to keep everyone safe, Google has created a very useful 'Crisis Map' that shows plenty of relevant information about the storm's trajectory, details about it, radar views, cloud cover, and more. Google Announces 100 Live Hangouts For Teachers Around The World
Google Docs is a great service that everyone of you has to be using. It has such a huge potential in education that we never let a chance go by without including it in an article or a review here. Google Docs is both a handy office suite and smart cloud storage utility. From the time I started using Google Docs, I never went back to my Microsoft Office. Why would I and Google Docs offers me more services and options than Microsoft Office, and the funny part of it all is that I woke up the other day and found a message from Microsoft informing me that my Office license has expired and that I need to buy a new one.
Teachers Manuel on The Use of Google Docs in Education
Create & Edit Documents in Google Drive for iPad
Since attending the Google Teacher Academy in April, I have been trying to learn as much as possible about each Google application. The result? I am realizing how little I actually knew about these tools and how tragically I was underutilizing them! Take Google Docs, for example.
Wallwisher & Google Docs as Online KWL Charts
Last month, I taught a course on professional writing. (I know, right? I'm having a very decadent summer, thank you very much.) The students' final assignment was to collaborate in small groups on a business proposal in which they were to identify, analyze, and then propose a solution for a problem of their own choosing. Ideally a local–upstate South Carolina–and current problem. Most written assignments in college are written by a single author.
GoogleDocs and Collaboration in the Classroom
Join Google Teacher Academy
Teacher's Quick Guide to Google Best Services
Home
Watch This Video Then Choose Better Search Terms
Teachers Definitive Guide To Google Search Skills
Google Search Calculator The Quickest Way to Perform Operations
Teachers Simple Guide on The Use of Google Forms in The Classroom
Learn about Google Yourself Challenge
Google Released An Excellent New Service Called Handwrite
A Great Way to Use Google Docs with your Students
10 Great Free Google Forms Every Teacher Should Be Using
15 Great Google tutorials for Teachers