Google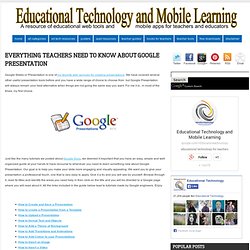 Everything Teachers Need to Know about Google Presentation
Google Slides or Presentation is one of my favorite web services for creating presentations .
The Comprehensive Guide to Google Free Tools for Teachers and Students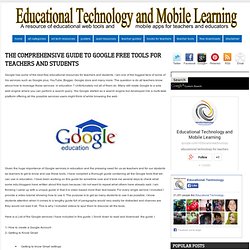 Google has some of the best free educational resources for teachers and students. I am one of the biggest fans of some of his services such as Google plus, YouTube, Bogger, Google docs and many more.
Ask your students which search engine they use and I am sure almost all of them will cite Google as their first choice.Probably if you ask yourself the same question you might get the same answer as well. Undeniably Google is a powerful search engine that has a domineering presence on the web and although it is relatively young compared with some other search engines such as Yahoo and Altavista, yet it has grown to become the backbone of the entire net. I personally can not imagine internet without Google, you might not necessarily share with me the same love towards this web service but we can agree on its centrality in our students digital learning.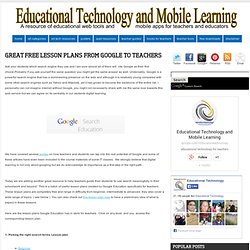 Great Free Lesson Plans from Google to Teachers
Google has recently conducted a massive operation to improve its services from Google Maps to Google Docs. This latter in particular has known some radical changes that would definitely increase users productivity. Just yesterday we posted here in Educational Technology and Mobile Learning about how Google made it possible for Google Docs users to access all of its services by one click .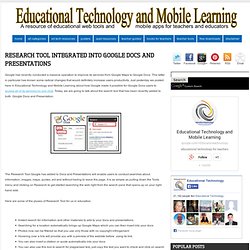 Research Tool Integrated into Google Docs and Presentations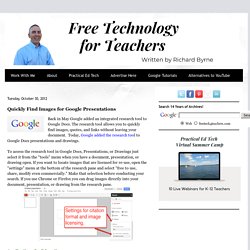 Quickly Find Images for Google Presentations
Back in May Google added an integrated research tool to Google Docs.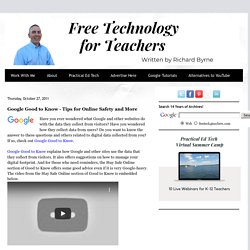 Google Good to Know - Tips for Online Safety and More
Have you ever wondered what Google and other websites do with the data they collect from visitors?
Google Earth is a very versatile program that educators often associate only with social studies.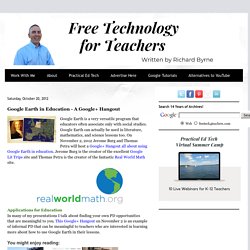 Google Earth in Education - A Google+ Hangout
A List of Great Google Apps for your iPad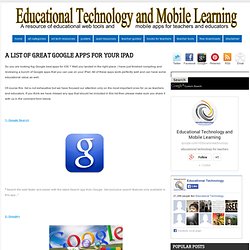 So you are looking fog Google best apps for iOS ? Well you landed in the right place.
Do the Two Step to Protect Your Google Drive, Dropbox, and Box Files
Cloud storage of files is one of my favorite aspects of the modern Internet.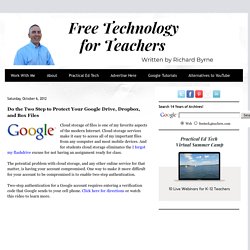 Google Across the Curriculum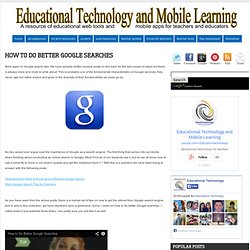 Back again to Google search tips.
How to Do Better Google Searches
Google Forms is a great free service for us in education.
Awesome Tutorials on how Teachers can Use Google Forms
We have recently been publishing a series of articles on Google Docs. The purpose behind this series is to make teachers and educators aware of the potential of this free service.
How Teachers Can Use Google Docs as A Writing Tool
Report: Vast Majority Of Top U.S. Schools Use Google Apps
Track Hurricane Sandy Using The Google Crisis Map 1.07K Views 0 Likes
Teachers Manuel on The Use of Google Docs in Education
Create & Edit Documents in Google Drive for iPad
It was rumored last week on TechCrunch and today it is confirmed by Google , you can now create and edit Google Documents using the Google Drive app for iPad . Starting today if you update Google Drive on your iPad you will be able to create new documents and edit documents using Google Drive on your iPad or iPhone. File management just got easier to because now you can create folders and move files into folders using Google Drive for iOS.
Since attending the Google Teacher Academy in April, I have been trying to learn as
Wallwisher & Google Docs as Online KWL Charts
GoogleDocs and Collaboration in the Classroom
Join Google Teacher Academy
Teacher's Quick Guide to Google Best Services
Home
Watch This Video Then Choose Better Search Terms
Teachers Definitive Guide To Google Search Skills
Google Search Calculator The Quickest Way to Perform Operations
Teachers Simple Guide on The Use of Google Forms in The Classroom
Learn about Google Yourself Challenge
Google Released An Excellent New Service Called Handwrite
A Great Way to Use Google Docs with your Students
10 Great Free Google Forms Every Teacher Should Be Using
15 Great Google tutorials for Teachers