Viral
Social media in the 16th Century: How Luther went viral. The 20 Most-Shared Ads of 2011. 10 Excellent Examples of Guerrilla Marketing Campaigns [VIDEOS] Guerrilla marketing "works because it's simple to understand, easy to implement and outrageously inexpensive," says Jay Conrad Levinson, the man who coined the phrase.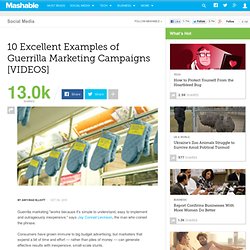 Consumers have grown immune to big budget advertising, but marketers that expend a bit of time and effort — rather than piles of money — can generate effective results with inexpensive, small-scale stunts. Take a look through our gallery of guerrilla and street marketing examples, where promotions costing no more than a few dollars can have a big impact on the consumers. Let us know which you think are the most effective in the comments below. More Marketing Resources from Mashable: Top 10 Most Shared YouTube Videos Of 2010. 2010 gave birth to a surprisingly large number of viral sensations from the Double Rainbow Guy to Old Spice's 'The Man Your Man Could Smell Like' to flash mobs, bed intruders, parodies and beyond.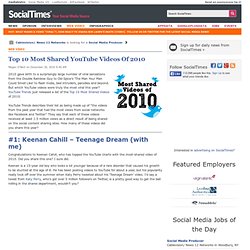 But which YouTube videos were truly the most viral this year? YouTube Trends just released a list of the Top 10 Most Shared Videos of 2010. Top 10 viral 2010.
---