Fcommerce
Why Are Retailers Shutting Their Facebook Stores? Eager to monetize the large followings they had built on Facebook, many large brands set up shop on the social network for the first time last year.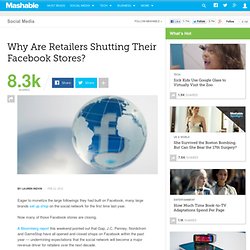 Now many of those Facebook stores are closing. A Bloomberg report this weekend pointed out that Gap, J.C. Penney, Nordstrom and GameStop have all opened and closed shops on Facebook within the past year — undermining expectations that the social network will become a major revenue driver for retailers over the next decade. "We just didn't get the return on investment we needed from the Facebook market, so we shut it down pretty quickly," Ashley Sheetz, VP of marketing and strategy at GameStop, told Bloomberg.
"For us, it's been a way we communicate with customers on deals, not a place to sell." Les 5 raisons de l'échec des boutiques sur Facebook - TRIBUNE. Sur Internet, nous avons tendance à lire tout et n'importe quoi, et notamment des chiffres, bien souvent contradictoires, qui créent, soit un emballement autour de certains outils ou supports (il suffit de voir aujourd'hui le phénomène autour de Pinterest... qui rappelle, dans la forme, l'engouement pour d'autres épiphénomènes qu'ont été Second Life, ChatRoulette, Quora...), soit des attentes surévaluées autour de certaines pratiques ou tendances.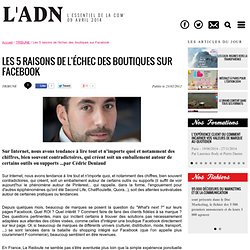 Depuis quelques mois, beaucoup de marques se posent la question du "What's next ? " sur leurs pages Facebook. Quel ROI ? Quel intérêt ? Comment faire de fans des clients fidèles à sa marque ? 3 Ways Content and Commerce Are Colliding In Online Retail. Lately we've witnessed the intersection of content and commerce, an emerging breed of retail site that features magazine-like editorials, photo spreads and inspiring video, all designed to instruct and, ultimately, sell a product.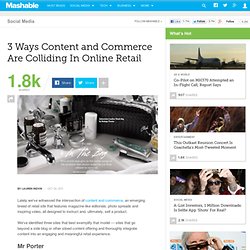 We've identified three sites that best exemplify that model — sites that go beyond a side blog or other siloed content offering and thoroughly integrate content into an engaging and meaningful retail experience. Mr Porter Mr. Porter suggests clothing from its catalogue via a feature about iconic '70s looks captured on film. Arriving at Mr Porter, a high-end men's retail site connected to online luxury retailer Net-a-Porter, feels more like opening a magazine spread than entering an online shopping destination. Social Shopping, que réserve FaceBook ? Ce matin, Guillaume et moi-même nous sommes rendus, au Salon du e-commerce, à la conférence Social Shopping, que nous réserve Facebook ?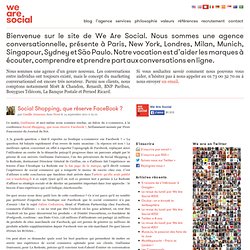 , brillamment animée par Flore Fauconnier du Journal du Net. A la grande question « faut-il exporter sa boutique e-commerce sur Facebook ? InteractiveAmy we will make it up to you! #RamonWOW Dominos Pizza Chicago - Uploaded by dpzramon. F-Commerce Lessons from Facebook's Growing Movie Rental Library. So the embryonic and experimental Facebook movie rental service by Warner Bros now includes Batman: The Dark Knight, Harry Potter movies (Sorcerer's Stone, Chamber of Secrets), Inception, Yogi Bear and Life as We Know It.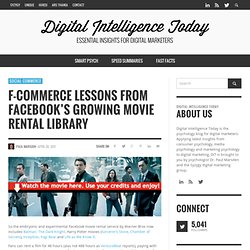 Fans can rent a film for 48 hours (alas not 488 hours as VentureBeat reports), paying with 30 Facebook Credits ($3), courtesy of Milyoni-powered software, and have full control of it in terms of pausing, rewinding, fast forwarding and resuming. They can also post comments on the movie, interact with friends as they watch, and update their status. As proof of concept that Facebook could have a future as a premium digital distribution platform – it's brilliant, and sent Netflix shares tumbling. But it's just a start. Facebook, les réseaux sociaux et les consommateurs: je t'aime moi non plus! 3LiveShop: The Future Of Shopping Is Here.  I see a lot of cool things every day.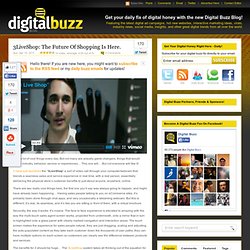 But not many are actually game changers, things that would shape industry, behavior, service or experiences… This one will… But not everyone will like it! 3 have just launched the "3LiveShop" a sort of video call through your computer/webcam that blends a seamless sales and service experience in real time, with a real person, essentially delivering the physical store's customer benefits to just about anyone, anywhere, online. High-Tech : Facebook : 600 millions d'acheteurs potentiels. L'ouverture de boutiques au sein du site communautaire est sur le point de transformer le réseau social en galerie marchande.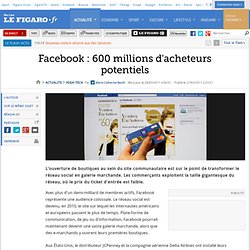 Les commerçants exploitent la taille gigantesque du réseau, où le prix du ticket d'entrée est faible. Avec plus d'un demi-milliard de membres actifs, Facebook représente une audience colossale. Le réseau social est devenu, en 2010, le site sur lequel les internautes américains et européens passent le plus de temps. Plate-forme de communication, de jeu ou d'information, Facebook pourrait maintenant devenir une vaste galerie marchande, alors que des e-marchands y ouvrent leurs premières boutiques. F-Commerce - Rise Of The Facebook Consumer. What the Facebook?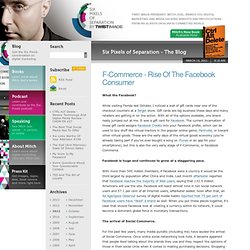 While visiting Florida last October, I noticed a wall of gift cards near one of the checkout counters at a Target store. Gift cards are big business these days and many retailers are getting in on the action. With all of the options available, one brand really jumped out at me. It was a gift card for Facebook. The current incarnation of these gift cards assigns Facebook Credits into your Facebook profile, which can be used to buy stuff like virtual tractors in the popular online game, Farmville, or toward other virtual goods. Did Facebook just hint at its answer to Groupon? Facebook just revealed that it's testing a new feature called "Buy with Friends" for its site, which will allow users to share their deals on virtual goods — and I'm starting to wonder whether Facebook could bring something similar to non-virtual deals.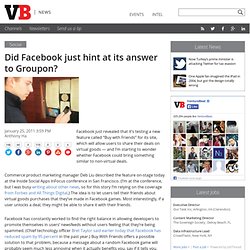 Commerce product marketing manager Deb Liu described the feature on-stage today at the Inside Social Apps InFocus conference in San Francisco. (I'm at the conference, but I was busy writing about other news, so for this story I'm relying on the coverage from Forbes and All Things Digital.) The idea is to let users tell their friends about virtual goods purchases that they've made in Facebook games. Most interestingly, if a user unlocks a deal, they might be able to share it with their friends. Facebook has constantly worked to find the right balance in allowing developers to promote themselves in users' newsfeeds without users feeling that they're being spammed.
A Year in Social Commerce [infographic. Well, what a year it's been in social commerce.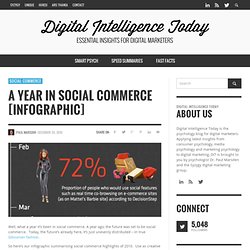 A year ago, the future was set to be social commerce. Today, the future's already here, it's just unevenly distributed – in true Gibsonian fashion. Médias sociaux > Les pratiques de commerce en ligne sur Facebook gagnent en maturité. Faisant suite à un premier article sur le social commerce , je souhaiterais aujourd'hui mettre un coup de projecteur sur différentes pratiques de commerce en ligne intégrée à Facebook. Certains appellent ça du Facebook commerce mais je reste persuadé qu'il s'agit ni plus ni moins de commerce en ligne, peu importe le support (après tout vous ne faite pas de Magento commerce ou du Drupal commerce ). Bref, tout ça pour dire que les pratiques évoluent et que les outils et modèles gagnent en maturité. Si je ne dis pas de bêtises, le premier marchand à avoir proposé une interface marchande sur Facebook est Blue Nile ( Blue Nile Takes The Plunge With Facebook Application ) avec une boutique assez sommaire, mais qui a été lancée en 2007 : Cette solution a fait des émules et inspiré les équipes de ShopTab qui ont sorti une solution de mini-boutique à encapsuler sur la page Facebook d'une marque.
---