Self Inprovement
201 Ways to Arouse Your Creativity. Arouse your creativity A guest post by Katie Tallo of Momentum Gathering.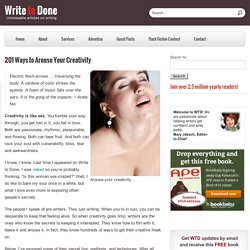 Electric flesh-arrows … traversing the body. 30 Things to Stop Doing to Yourself. Post written by: Marc Chernoff Email When you stop chasing the wrong things you give the right things a chance to catch you.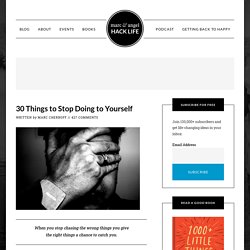 As Maria Robinson once said, "Nobody can go back and start a new beginning, but anyone can start today and make a new ending." Welcome - My Body Gallery - What Real Women Look Like. 15 Things You Should Give Up To Be Happy. Here is a list of 15 things which, if you give up on them, will make your life a lot easier and much, much happier.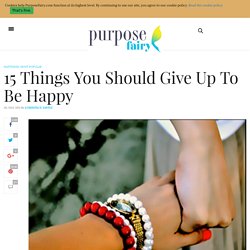 We hold on to so many things that cause us a great deal of pain, stress and suffering – and instead of letting them all go, instead of allowing ourselves to be stress free and happy – we cling on to them. Not anymore. Starting today we will give up on all those things that no longer serve us, and we will embrace change. Ready? Here we go: 15 Powerful Things Happy People Do Differently.
What are the differences between happy people and unhappy people?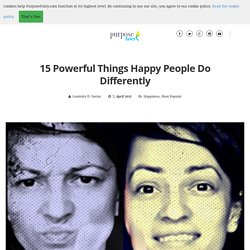 Of course, it should be very obvious: happy people are happy while unhappy people are unhappy, right? Well, that is correct. But, we want to know what happy people do differently, so I have put together a list of things that happy people do differently than unhappy people. 1. Love vs. 33 Ways To Stay Creative. 5 Things to Do Every Day for Success. Fast Company wants you to have your best year yet in 2012; click for more advice and tips on how to work smarter, manage your career, and lead a more meaningful life.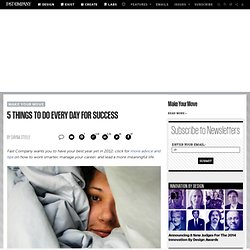 "You get up at what time? " I hear that a lot, along with "You are so lucky. " So, I'm going to help out here and let you in on the secrets of my success. Well, not all of them--but enough to show you the foundation I build on every day. 1.
---