Global2.vic.edu.au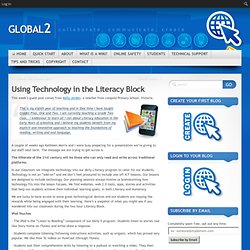 Using Technology in the Literacy Block | global2
This week's guest post comes from Kelly Jordan, a teacher from Leopold Primary School, Victoria. This is my eighth year of teaching and in that time I have taught Grades Prep, One and Two. I am currently teaching a Grade Two class..
During Weeks 4 – 7 of the Global 2 Challenge we will be looking at the opportunities that blogging offers teaching and learning, under the four strategies of Connecting, Communicating, Collaborating and Learning Collectively. For further reading refer to the white paper: Understanding Virtual Pedagogies for Contemporary Teaching and Learning. The web has made it much easier to publish information. Blogging in particular is quick, easy and free to do. Anyone can easily publish content in text, audio, video and other multimedia formats.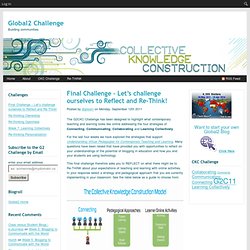 Global2 Challenge
Would you like to share your classroom blog? This is the showcase for Global2 blogs. Each classroom blog that appears on this page is viewable by clicking on the image or going to the link. Feel free to comment on these class blogs and make sure you ask your teacher to sign you up to Global2 so you can start your blog today! Latest News » Showcasing great blogs in education!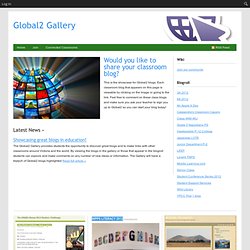 Global2 Gallery
A Captivating Classroom – share your posts with us | global2
At Global2 we like sharing our community's stories. This week's guest post is from Mel Cashen. I am currently a Grade 5/6 Teacher at Lightning Reef Primary School. Easily inspired by others, I am always trying something new, especially around the area of technology in the classroom.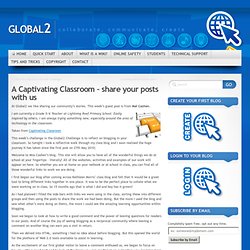 PLPConnectU 2011 | global2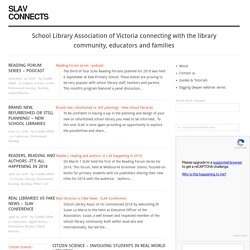 With the holidays in our sights, we're all looking forward to a little festive feasting and relaxation. We've been a bit quiet here at Bright Ideas over the past few months (even though we didn't have reports to write!) and… Does your library orientation plan for next year's students feel a bit stale? Have you been doing the same lesson for the last few years (or more)?
The Student Conference Series is breaking new ground in flattening classrooms | global2
The Student Conference Series is a presentation series dedicated to students presenting topics they are passionate about to a larger audience. Each week students are scheduled to present on different topics from Minecraft to Fjord Ponies. The concept for Students Conferences first came from Global 2 blogger, Ben Gallagher. He and Mel Cashen had organised a year 6 student from his class at Meredith Primary School to speak to her class at Lightning Reef in Bendigo about woodworking skills.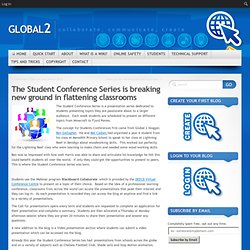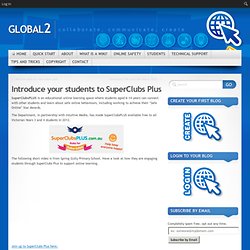 Introduce your students to SuperClubs Plus | global2
SuperClubsPLUS is an educational online learning space where students aged 6-14 years can connect with other students and learn about safe online behaviours, including working to achieve their 'Safe Online' Star Awards. The Department, in partnership with Intuitive Media, has made SuperClubsPLUS available free to all Victorian Years 3 and 4 students in 2012. The following short video is from Spring Gully Primary School. Have a look at how they are engaging students through SuperClubs Plus to support online learning.