Blogs & Wikis
BillsTeachingNotes - home
BillsTeachingNotes - Numeracy Teaching Notes
BillsTeachingNotes - Literacy Resources
Australian National Curriculum Resources F-6 - home
icttoolkit - Maths
icttoolkit - IWB Maths
These maths sites have a HUGE variety of games and ideas and you will need to explore them to find what suits you or your students.Campbell County School District's Mathematic Skills for Grades 3-6 A list of internet resources- very useful! http://web.ccsd.k12.wy.us/techcurr/math/math3_6.html SMART IWB premade lessonshttp://www.smart-education.org/?p=browse&cat=3&mat=15&sec=91http://education.smarttech.com/ste/en-GB/Ed+Resource/Lesson+activities/Notebook+Activities/Math Playground www.mathplayground.com/logicgames Smart Kiddies- Helping kids become better mathematicians A great website which includes video demonstrations from Australian teachers, activity sheets and interactive games. Also includes unit quizzes.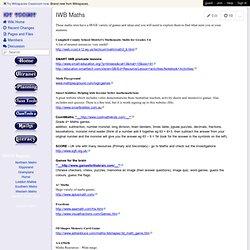 icttoolkit - Maths tools
icttoolkit - Assessment in Maths
Got any great examples of maths activities that make a difference? Why don't you add them here to share great ideas with others!!!Achievement Zones resources Some resources from Achievement zones wikispaces Check out http://hench-maths.wikispaces.com for an extensive range of maths resources organised by VELS Thinking and Working Mathematically PD 20th February 2009 The following items are power points and video clips from the presentation. Please go to Thinking tools to access the **Thinking/ Graphic Organisers** tab, ie Exit pass and Blooms Taxonomy grid.
icttoolkit - Teaching & Learning Activities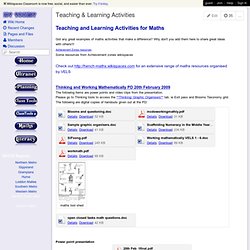 icttoolkit - Thinking & Graphic Organisers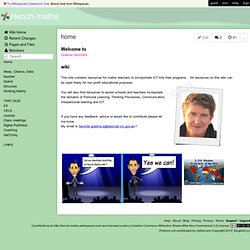 Graeme Henchel's This site contains resources for maths teachers to incorportate ICT into their programs. . All resources on this wiki can be used freely for non profit educational purposes. You will also find resources to assist schools and teachers incorporate the domains of Personal Learning, Thinking Processes, Communication, Interpersonal learning and ICT. If you have any feedback, advice or would like to contribute please let me know. My email is henchel.graeme.e@edumail.vic.gov.au
Hench-maths - home
Rubrics For Teachers | Blog Assessment Rubrics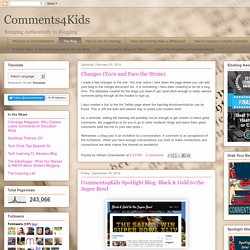 Today's post is a bit different. Coach Abernathy has put some of his students posts on a Google Doc and opened up commenting. This is the first time we have had a G Doc used as a commenting platform on Comments4Kids.com
Educational-Blogging - How Do Your Third Graders Know How to Type?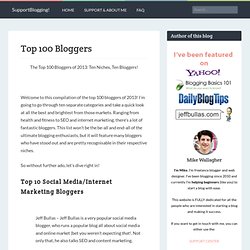 The Top 100 Bloggers of 2013: Ten Niches, Ten Bloggers! Welcome to this compilation of the top 100 bloggers of 2013! I'm going to go through ten separate categories and take a quick look at all the best and brightest from those markets. Ranging from health and fitness to SEO and internet marketing, there's a lot of fantastic bloggers.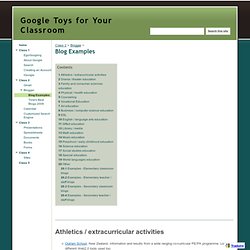 Outram School, New Zealand. Information and results from a wide ranging co-curricular PE/PA programme. Lots of different Web2.0 tools used too.Shakespeare TeacherMr Robbo- lots of ideas for integrating tech into PEPhysical Education Update Blog Comments on ports, coaching and PEUTE Pass Elementary Physical Education agenda, units, assessments, skills and more!Vermont Physical Education by the Physical Education Consultant for the Vermont Department of Educationsmallsteps - integrating technology in Physical and Health education.FitMet - A physical education and health blog.
Blog Examples - Google Toys for Your Classroom