Online Marketing
What Not to Do With Your Online Presence in 2013. Now that your business has survived the much-hyped "end of the world," handling your online marketing should be a piece of cake, right?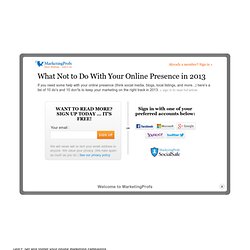 But just in case you need some help, here's a list of 10 do's and 10 don'ts to keep your online presence on the right track in 2013. Don't: Use blanket "Like Us" messages to drive people to your social media pages. Do: Give consumers a reason to like you, follow you, circle you, or whatever other action they need to take when promoting your social pages in emails, blogs, or your website. 6 Chinese Online Trends You Should be Anticipating in the Year of the Snake. With the new moon in February, the Year of the Snake will be upon us.
Although it won't have the fanfare of its Dragon forerunner, there'll still be plenty of fireworks in a year bursting with opportunities for businesses selling in China. China's sixth zodiac animal, the Snake, is said to have many material possessions. That coupled with China's growing appetite for shopping, ensure it will be a good year to keep ahead of the trends if you're a business hoping to capitalize on China's increasing consumerism.
How to Use Social Partnerships to Amplify Your Marketing. Would you like to combine forces with another company in a collaborative promotion?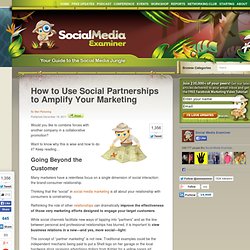 Want to know why this is wise and how to do it? Keep reading… Going Beyond the Customer Many marketers have a relentless focus on a single dimension of social interaction: the brand-consumer relationship. Internet Marketing Services Company, Expert in Search Engine Optimization, PPC, Social Media Marketing and More. The year's 5 most-useful social media tools for PR and marketing. Each week in 2011, I shared the five most-useful social media tools on the Web.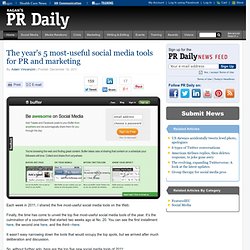 Finally, the time has come to unveil the top five most-useful social media tools of the year. It's the culmination of a countdown that started two weeks ago at No. 20. You can see the first installment here, the second one here, and the third—here. It wasn't easy narrowing down the tools that would occupy the top spots, but we arrived after much deliberation and discussion. Collection of 2012 Tip-Related Articles for SEO, Social & Internet Marketing. 11 New Year's resolutions for PR and marketing professionals. As we prepare to ring in the new year, let's take a few minutes to reflect on what's most important as a marketer or PR practitioner, particularly as the media landscape continues to evolve.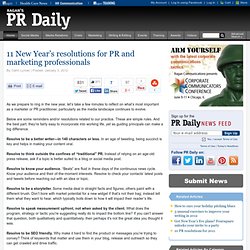 Below are some reminders and/or resolutions related to our practice. These are simple rules. And the best part: they're fairly easy to incorporate into working life, yet as guiding principals can make a big difference. Resolve to be a better writer—in 140 characters or less. In an age of tweeting, being succinct is key and helps in making your content viral. 11 Marketing Tips for LinkedIn. With over 135 million users, 59% of which are located outside of the United States and with 75 of the Fortune 100 companies using the network for marketing and recruiting purposes, LinkedIn has become a critical platform for building, connecting with, and growing your personal and professional networks.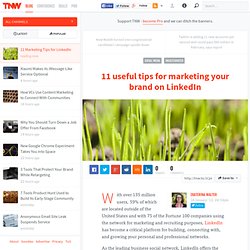 As the leading business social network, LinkedIn offers the chance to connect with professionals all around the world and from all industry backgrounds. But how do you convert networks into customers, and 'likes' into sales? 1. Learn from your peers. Why Your Social Media Marketing Campaign Can Fail Right from the Start. Why Your Social Media Marketing Campaign Can Fail Right from the Start The study identified the fact that a significant percentage of perceived social network activity is driven by a relatively small proportion of power users who then skew perception in the way the social network really operates.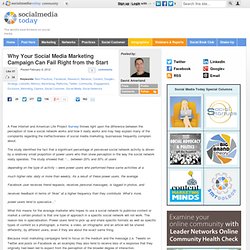 The study showed that: "… between 20% and 30% of users. 8 Quick Ways to Increase Your AdWords CTR. There are times you just want to increase your click-through rates.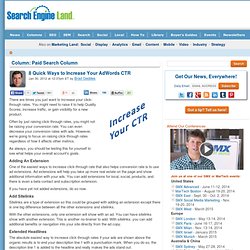 You might need to raise it to help Quality Scores, increase traffic, or gain visibility for a new product. Often by just raising click-through rates, you might not be raising your conversion rate. You can even decrease your conversion rates with ads. However, we're going to focus on raising click-through rates regardless of how it affects other metrics. Google Plus Is A Very Big Deal Indeed For Social Media Marketers - MostHost Cloud Hosting Blog. Google Plus was a bit controversial when it first opened.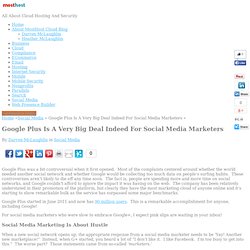 Most of the complaints centered around whether the world needed another social network and whether Google would be collecting too much data on people's surfing habits. These controversies aren't likely to die off any time soon. The fact is, people are spending more and more time on social networks, and Google couldn't afford to ignore the impact it was having on the web. 9 Ways to Integrate Email and Social Media Marketing. Are you wondering how to add social media to your email communications?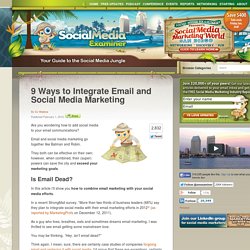 Email and social media marketing go together like Batman and Robin. They both can be effective on their own; however, when combined, their (super) powers can save the city and exceed your marketing goals. Is Email Dead? Search Engine Optimization or Social Media Marketing | Build-a-Blog-Site | Build-A-Blog. The New Google Analytics Fuels an On-Site Revolution. The new version of Google Analytics has been a hit-or-miss type of implementation. I personally think that most resistance to change is a type of "Professional Inertia"; where people get to know the tools they use so often, that any modification of those tools is greeted with resistance.
I myself also found myself disliking the new face of analytics when I first saw it, but then I started to look under the hood and see what they added to the code; and what is there will surprise you. The Essential Guide to Meta Descriptions that Will Get You Found Online. PR exec: Social media is not your savior. This might be unexpected advice coming from an agency's lead representative for social media, but the truth is that social media will not save your marketing program. With my mind on the approaching start of spring training, here's an analogy: The pitcher is one of the most important members of a baseball team, but pitching alone can't carry a team to the World Series. The same is true for social media. 20 free tools to evaluate social media. These tools are not for measurement, but instead evaluation. They will give you some form of meaningful data to use in reports—plus they don't cost anything.
This is by no means an extensive list. Others exist, but even a few of them together will provide you with meaningful intelligence. The Best Thing You Can Do For Your Website. It's a top list. Please don't sigh if you're read about them on here before, because my most recent one just got a whole load more awesome, and there's plenty that YOU can learn from it. I've written in the past all about how to write an awesome top list which will get lots of people talking about your website, but until a couple weeks ago, it had been a long time since I'd written an effective one.
With my IncomeDiary hat on, I produced a new top list, and tracked the progress that my website and fan page has made since the release. Here is what I've found… 10 Wordpress Plugins, You Can't Blog Without! | Build-A-Blog. The Ultimate Google+ SEO Guide. This comprehensive Google+ SEO guide covers every aspect and angle of Google+ and how it impacts search. My normal TL;DR has been replaced with a Google+ SEO Best Practices section located at the bottom of this post. I will be periodically updating this post (updated January 23, 2012) as things inevitably change. Slideshow: 10 Invaluable (Yet Free!) Online Marketing Resources Business on Main. 3 Successful Google+ Pages and Why They Work. 33 New Digital Media Resources You May Have Missed. Collection of 2012 Tip-Related Articles for SEO, Social & Internet Marketing. Tips for a Social Media Marketing Campaign. Leveraging the Power of Facebook. Online Video Marketing Tips For Brands & Websites From iVillage. 12 Google+ Marketing Tips From the Pros.
5 Valuable SEO Spreadsheets Resources. 10 Ways to Add Facebook Functionality to Your Website. Twitter, Facebook, LinkedIn, Google+ — Advancing What Brands Can Do in the Social Channel. Pinterest: Link Building & SEO Strategies. 10 Promising Free Web Analytics Tools. Best Free Website Analytics Tools. How to be a rock star on 8 social media platforms. Why, and An Easy Way, To Set Up a 301 Redirect on Your Blog. How to Hold a Google+ Hangout and Why You Should. Who rules social media? [Infographic]
Infographic: The Authority Building Machine. How To Add Google+ To Your Social Media Marketing Strategy. Google+ opens to businesses and brands. Marketing Data, Metrics, Charts & Graphs | HubSpot. 20 KPIs you should monitor in Google Analytics. Which Web Analytics Is Best for You… and Why. SEO's Three Stages of Keyword Success. 12 Most Critical Things Businesses Must Know About New Facebook. 10 Things You Should Include in a Social Media Plan. The 50 Best "Best-Of" Online Marketing Lists. 15 Questions for Social Media Marketing and Measurement Success. 10 Things You Should Include in a Social Media Plan.
The 10 commandments of Video Marketing. SEO, social media marketing among top tools for B2B marketers. Social Media Optimization - 4 Essential Social SEO Tips to Boost Business Results. LinkedIn Company Status Updates: A MUST Use Marketing Tool.
---