Cooking Sites
If you want to spice up your recipes and save money, you need to begin with a well-curated cupboard. What should you have within arm's reach at all times? Start with a good salt and a good pepper.
In the Pantry: Must-Haves for a Well-Stocked Pantry | In The Pantry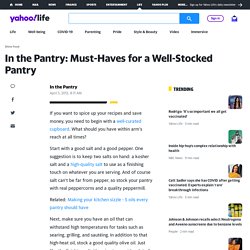 Recipe Index
Recipes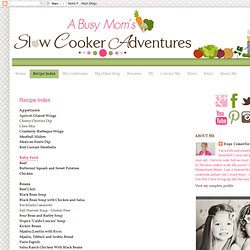 A Busy Mom's Slow Cooker Adventures: Recipe Index
AppetizersApricot-Glazed WingsCheesy Chorizo DipChex MixCranberry-Barbeque WingsMeatball SlidersMexican Fiesta DipRed Currant Meatballs Baby FoodBeefButternut Squash and Sweet PotatoesChicken BeansBeef ChiliBlack Bean SoupBlack Bean Soup with Chicken and SalsaEnchilada CasseroleFall Harvest Soup - Gluten-FreeFour Bean and Barley SoupHope's "Caldo Cancun" SoupKickin' BeansMjadra (Lentils with Rice)Mjadra, Tabbuli and Arabic BreadPasta FagioliSalsa Ranch Chicken With Black BeansSalsa Ranch Chicken With Black Beans LeftoversSlow Cooked Baked Beans"The Best" Bean and Ham SoupTomato, Bean and Vegetable SoupVegetable and Lentil SoupVegetarian Stuffed PeppersWhite Bean and Chicken "Chili"White Bean ChiliWhite Chicken ChiliWhite Chicken Chili Again!
Once a Month Cooking and Freezing Recipes Tips Lessons
Once a month cooking is a very popular topic. There are entire web sites devoted to recipes, hints, and rules (and my first cookbook, Everything Meals for a Month). If you have an reliable, large freezer and want to devote one weekend a month to a marathon cooking session, OAMC is an excellent way to save time. There are a few ways to tackle OAMC. You can cook double batches of your favorite recipes and freeze them in smaller containers; you can cook 20 individual recipes and freeze them; or you can buy a large quantity of meats and ingredients, cook a large batch of starter foods (meats, spaghetti sauce or chili) and then make lots of different casseroles and entrees from the starter. You have to be very organized to cook such a large amount of food at one time, keep it safe and package and label well.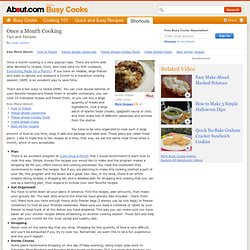 About.com: http://www.menus4moms.com/bulk/chicken_plan.php
FreezingPreparedFoods
Save It for Later Making meals in advance can be as simple as doubling a casserole recipe or tossing an extra meatloaf into the oven. Before You Freeze Before freezing hot food, it's important to let it cool down. Heat will raise the temperature of the freezer; and the food will not freeze uniformly, the outer edges of the hot dish will freeze hard quickly while the inside might not cool in time to prevent spoilage. There are just a few things to keep in mind: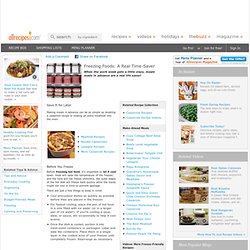 Freezing Foods: A Real Time-Saver Article
1000's of Free Slow Cooker Recipes, Videos, How-To Slow Cook Guides and More!
[ Close Privacy Policy ] Privacy Policy / Your California Privacy Rights Revised and posted as of March 4, 2013 Prime Publishing, LLC ("Company," "we" or "us") reserves the right to revise this Privacy Policy at any time simply by posting such revision, so we encourage you to review it periodically.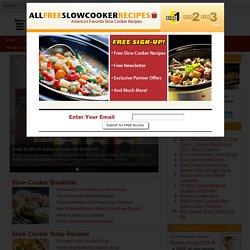 Recipe Index
2013 was a GREAT year for 365 Days of Slow Cooking! I was able to create many more easy, tasty slow cooker recipes that hopefully found a place on your dinner menu. It always surprises me when I look to see which recipes have made the top 10 list. Some are my favorites and some are not necessarily what I would have chosen. What are you favorite recipes from 365 Days of Slow Cooking?
Breakfast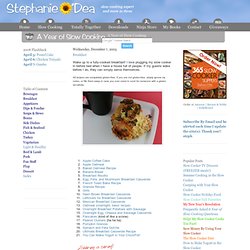 Stephanie O'Dea slow cooking expert and mom to three A Year of Slow Cooking 2008 Flashback April 5: Pound Cake
All Recipes
Substitutions for Baking Ingredients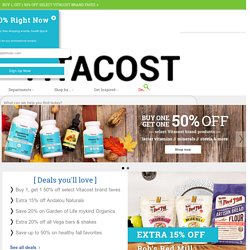 Best-of-both-worlds shoppingWith Vitacost.com, you don't have to choose between stores that sell products you don't really want at super-low prices, and stores that sell the better health and wellness products you want at crazy-high prices. We offer over 2,500 of the top, most-trusted natural brands, diet foods and healthy living essentials-the very best nutritional supplements, whole foods and sports nutrition-at discount prices, up to 50% off. And we'll deliver them right to your door for FREE if your order totals $49 or more. Otherwise, shipping is just a small, flat-rate fee of $4.99, no matter how big the box. More than just vitaminsVitacost.com has the best selection of health foods and snacks, bath and body products, natural household supplies, baby care essentials--plus, of course, discount vitamins, minerals, herbs, sports nutrition supplements and other formulas for your nutritional needs.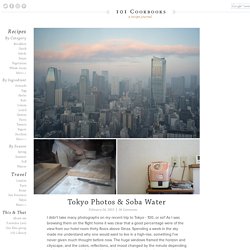 Back in the late 90's Vogue Entertaining + Travel was the Australia-based magazine I splurged for any time I came across it on the news stand. It was gorgeously produced with the likes of Mikkel Vang, Petrina Tinslay, David Loftus, Quentin Bacon, and Con Poulos filling the pages - imagery that was modern, aspirational, and (often) lit naturally. About that time, they started publishing a series of little seasonal Vogue Entertaining Cookbooks. Over the years I collected five of the volumes, and all of them have survived multiple moves (and brazen cookbook purges). Paperback, and roughly 160 pages in length, their simplicity is inviting, and a straight-forward mix of recipes and idea lists are everyday approachable.