Cooking Sites
In the Pantry: Must-Haves for a Well-Stocked Pantry | In The Pantry. If you want to spice up your recipes and save money, you need to begin with a well-curated cupboard.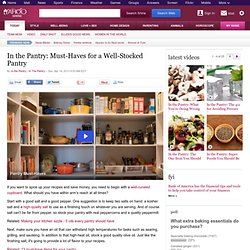 What should you have within arm's reach at all times? Start with a good salt and a good pepper. One suggestion is to keep two salts on hand: a kosher salt and a high-quality salt to use as a finishing touch on whatever you are serving. Recipe Index. Recipes. A Busy Mom's Slow Cooker Adventures: Recipe Index. AppetizersApricot-Glazed WingsCheesy Chorizo DipChex MixCranberry-Barbeque WingsMeatball SlidersMexican Fiesta DipRed Currant Meatballs Baby FoodBeefButternut Squash and Sweet PotatoesChicken BeansBeef ChiliBlack Bean SoupBlack Bean Soup with Chicken and SalsaEnchilada CasseroleFall Harvest Soup - Gluten-FreeFour Bean and Barley SoupHope's "Caldo Cancun" SoupKickin' BeansMjadra (Lentils with Rice)Mjadra, Tabbuli and Arabic BreadPasta FagioliSalsa Ranch Chicken With Black BeansSalsa Ranch Chicken With Black Beans LeftoversSlow Cooked Baked Beans"The Best" Bean and Ham SoupTomato, Bean and Vegetable SoupVegetable and Lentil SoupVegetarian Stuffed PeppersWhite Bean and Chicken "Chili"White Bean ChiliWhite Chicken ChiliWhite Chicken Chili Again!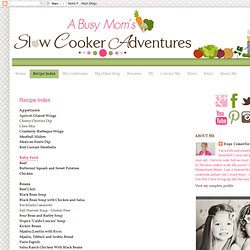 Once a Month Cooking and Freezing Recipes Tips Lessons. Once a month cooking is a very popular topic.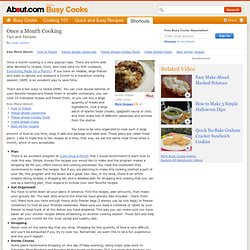 There are entire web sites devoted to recipes, hints, and rules (and my first cookbook, Everything Meals for a Month). If you have an reliable, large freezer and want to devote one weekend a month to a marathon cooking session, OAMC is an excellent way to save time. There are a few ways to tackle OAMC. You can cook double batches of your favorite recipes and freeze them in smaller containers; you can cook 20 individual recipes and freeze them; or you can buy a large quantity of meats and ingredients, cook a large batch of starter foods (meats, spaghetti sauce or chili) and then make lots of different casseroles and entrees from the starter. You have to be very organized to cook such a large amount of food at one time, keep it safe and package and label well. About.com: FreezingPreparedFoods. Freezing Foods: A Real Time-Saver Article. 1000's of Free Slow Cooker Recipes, Videos, How-To Slow Cook Guides and More! Recipe Index.
365 Days of Slow Cooking. Breakfast. Stephanie O'Dea slow cooking expert and mom to three A Year of Slow Cooking 2008 Flashback April 5: Pound Cake.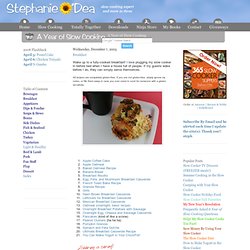 All Recipes. Substitutions for Baking Ingredients. Discount Vitamins, Supplements, Health Foods, Whole Foods and Sports Nutrition online, Vitacost. 101 Cookbooks - Healthy Recipe Journal.
---