Partitions
Java Runtimes Excelsior JET Excelsior JET is a certified Java SE 6 implementation powered by ahead-of-time (AOT) compilation technology. It is not a packager of Java applications into Windows EXE/Linux binaries.
Links :: TuxGuitar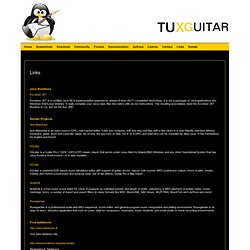 Partitions et tablatures de guitare : Cours de guitare gratuits pour débutants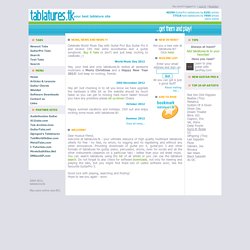 tablatures.tk - your ultimate FREE guitar pro tabs archive
Celebrate World Music Day with Guitar Pro! Buy Guitar Pro 6 and receive 100 free extra soundbanks and a guitar songbook. Buy it here or don't and just keep rocking to celebrate ;-)
GProTab - GuitarPro tabs sharing website
Posted on: 23 Jun 2010 00:46 Due to the failure of the site´s database, we had to restore it from backup. Unfortunately it was dated April 20th. All tabs, comments, post etc. posted after April 20th are lost. Please re-submit your tabs for that period. We appreciate your understanding.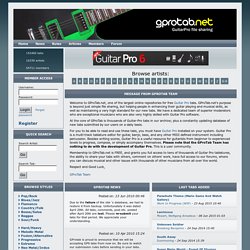 tabsHeaven.net - free Guitar PRO tabs
Indexing 541108 guitar-pro, powertab files and guitar tabs Sign Up | Sign In Top 100 Bands Top 100 Tabs Fresh Tabs Welcome to TabScout.com Guitar Pro Tabs resource #1 On this site you will find a large collection of Guitar Pro tabs , PowerTabs and Textual Guitar Tabs that you can download and see online. In fact, TabScout is currently aware of well over 500.000 tabs!
Guitar Pro tabs, Power Tabs, Chords @ TabScout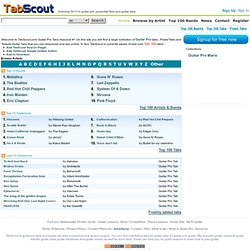 TuxGuitar Community :: Share your tabs, Listen them online, Launch Tuxguitar online, try it without downloading - TuxGuitar Community
GuitarProSongs