Visualization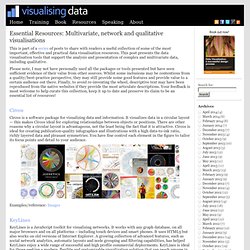 This is part of a series of posts to share with readers a useful collection of some of the most important, effective and practical data visualisation resources. This post presents the data visualisation tools that support the analysis and presentation of complex and multivariate data, including qualitative.
Essential Resources: Multivariate, network and qualitative visualisations
Les data en forme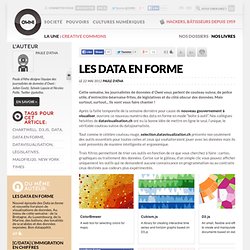 Cette semaine, les journalistes de données d'Owni vous parlent de couteau suisse, de police utile, d'entrecôte-béarnaise-frites, de législatives et du côté obscur des données. Mais surtout, surtout... Ils vont vous faire chanter ! Après la faille temporelle de la semaine dernière pour cause de nouveau gouvernement à visualiser, ouvrons ce nouveau numéro des data en forme en mode "boîte à outil". Nos collègues helvètes de datavisualisation.ch ont eu la bonne idée de mettre en ligne le seul, l'unique, le véritable couteau suisse du datajournaliste.
Visualización de información: ¿arte o ciencia?
Analyse et visualisation de données
The art of data visualization