Treatments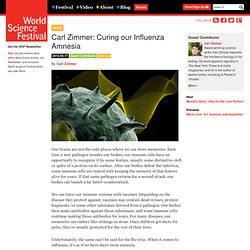 Carl Zimmer: Curing our Influenza Amnesia
By Carl Zimmer Our brains are not the only places where we can store memories. Each time a new pathogen invades our bodies, our immune cells have an opportunity to recognize it by some feature, usually some distinctive cleft or spike of a protein on its surface. After our bodies defeat the infection, some immune cells are tasked with keeping the memory of that feature alive for years. If that same pathogen returns for a second attack, our bodies can launch a far faster counterattack. We can tutor our immune systems with vaccines.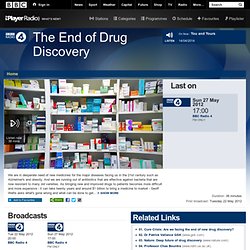 BBC Radio 4 Programmes - The End of Drug Discovery
We are in desperate need of new medicines for the major diseases facing us in the 21st century such as Alzheimer's and obesity. And we are running out of antibiotics that are effective against bacteria that are now resistant to many old varieties. As bringing new and improved drugs to patients becomes more difficult and more expensive - it can take twenty years and around $1 billion to bring a medicine to market - Geoff Watts asks what's gone wrong and what can be done to get new pharmaceutical treatments to patients. Geoff talks to a number of researchers who have worked both within the pharmaceutical industry and publicly funded laboratories to get their views on why the source of drugs has dried up.
Radio 4 The End of Drug Discovery - The End of Drug Dis...
21 May 2012Last updated at 20:32 ET By Smitha Mundasad BBC Radio 4 Will we find new cures for the 21st Century? Half a century ago, in the drug industry's golden era, we were bestowed with countless pills to lower blood pressure, control blood sugar and get rid of infections.
The end of drug discovery?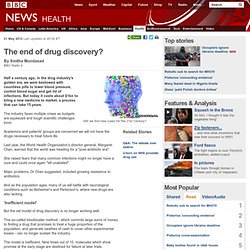 e-volution: Biochemistry news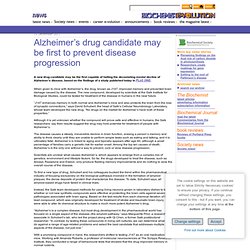 Alzheimer's drug candidate may be first to prevent disease progression A new drug candidate may be the first capable of halting the devastating mental decline of Alzheimer's disease, based on the findings of a study published today in PLoS ONE. When given to mice with Alzheimer's, the drug, known as J147, improved memory and prevented brain damage caused by the disease. The new compound, developed by scientists at the Salk Institute for Biological Studies, could be tested for treatment of the disease in humans in the near future. "J147 enhances memory in both normal and Alzheimer's mice and also protects the brain from the loss of synaptic connections," says David Schubert, the head of Salk's Cellular Neurobiology Laboratory, whose team developed the new drug.
This is a real treat – a guest post by SPM member and participatory pioneer Kate Lorig. Kate was a friend of our founder "Doc Tom" Ferguson, is cited twice in his e-patient white paper (see right sidebar), was the author of an important essay What will it take to embrace participatory medicine? One patient's view in the first issue of our journal, and is listed on its advisory board. Her bio (at bottom) doesn't brag about it but in many circles she's best known as the creator of CDSMP, the Chronic Disease Self-Management Program, a six week training that basically teaches patient engagement – teaches patients to be engaged in managing themselves. Except now she wants us to maybe not talk about e-patients. See what you think.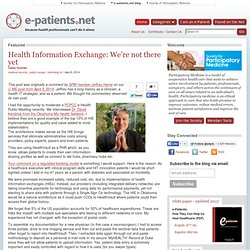 Dave deBronkart: Meet e-Patient Dave
"CureTogether seriously changed my life." — Christopher "I just wish doctors got this information and applied it..." — Amanda "I thought I was the only one with these kinds of symptoms." — Faren "Your website is helpful beyond words... I feel connected to people who are suffering from the same symptoms as myself.