NOAA
State of the Climate: Mass Balance of Mountain Glaciers in 2011. State of the Climate: 2011 Arctic Sea Ice Minimum. State of the Climate: 2011 Humidity. State of the Climate: 2011 Ocean Heat Content. State of the Climate: 2011 Global Surface Temperature. State of the Climate: 2011 Stratospheric Temperature. State of the Climate: 2011 Sea Surface Temperature.
June 2012 brings more record-breaking warmth to U.S. Balancing Forces: Normal 2012 Hurricane Outlook. Global land temperature in May 2012 is warmest on record. At end of May, year-to-date temperature warmest on record. May…Oh My! Unusual Heat for the U.S.
The Narwhal's Tale: Surviving Sea Ice Change. A sea change in the Arctic atmosphere. Northeast Joins Drought, Spring 2012. A dry beginning for 2012 across much of U.S. Innovative Farmers Look to Climate Forecasts for an Edge. Dry, Warm Spring No Help for Southern Drought. Expanding on the Almanac: Farmer's Bet on Climate Forecast Pays Off. Droughts & Downpours: Harvesting Rain on a Dryland Farm. La Niña fading, likely gone by end of April.
Record Heat, March 2012. Do solar storms cause heat waves on Earth? It's official: March 2012 warmth topped the charts. March storms pile up to 9 feet of new snow onto Cascades. Spring 2012 climate outlook favors warm, dry conditions in South. U.S. has fourth warmest winter on record; West & Southeast drier than average.
Winter 2011-2012 Recap. For Europe and central Asia, winter plays catch-up in February. The Rise of Cyanobacteria in Freshwater Resources. February 24, 2012 This image shows a bloom of cyanobacteria in Lake Erie on August 19, 2011 (courtesy of Thomas Archer).
Cyanobacteria (formerly known as blue-green algae) are on the rise in the U.S. and worldwide, becoming a serious threat to freshwater resources and public health. Research results funded by the National Centers for Coastal Ocean Science are uncovering the secrets of why cyanobacteria are so successful. This information will be used to develop new strategies to control this growing problem. What are Cyanobacteria? Warming climate will add to habitat woes for Pacific NW salmon. Climate Change Communication: Focusing on Public Engagement.
Climate Change: Impacts, Solutions and Perceptions. The State of the Climate. Global Climate Change Impacts in the United States. Limiting the Magnitude of & Adapting to Future Climate Change.
What is the Difference Between Weather and Climate? Is the Breathing of the World's Ocean Choking Marine Life? Historical Perspectives on Climate Change. Ethics and Issues Surrounding Geo-engineering to Mitigate Climate Change. Improving Models for Wind Energy. Monitoring Malaria Using Satellites.
The Record-Breaking Texas Drought. Jake Crouch – Reviewing the Climate of 2011. Fierce 2010-2011 Winter Dwarfs This Season's Snowfall. Top 10 Global Climate & Weather Events of 2011. The Arctic Report Card: Highlights from 2011. Explaining Why Climate Change is Amplified at the Poles. 2011′s Climate Extremes: Drought, Heat, and Flooding. Top 10 U.S. Climate & Weather Events of 2011. Shrub Takeover One Sign of Arctic Change.
Greenland Ice Sheet Getting Darker. So far, Arctic Oscillation favoring mild winter for eastern U.S. What is the cryosphere? There are places on Earth that are so cold that water is frozen solid.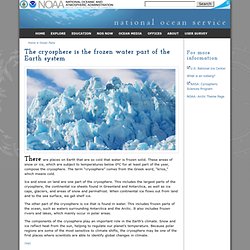 These areas of snow or ice, which are subject to temperatures below 0°C for at least part of the year, compose the cryosphere. The term "cryosphere" comes from the Greek word, "krios," which means cold. Ice and snow on land are one part of the cryosphere. 2011-2012 Winter Outlook. Winter Outlook for 2011-2012. Greenland Ice Sheet Surface Melting, 2000-2011. 2011 Melt Season on Greenland Up to 30 Days Longer than Average. Sea Ice Declines Boost Arctic Phytoplankton Productivity. Arctic Tundra Growing "Greener" From Warmer Summers.
Highlights of the 2011 Arctic Report Card. Missouri River Flooding 2011: Responding to a Climate Extreme. Missouri River Flooding 2011: Climate Sets the Stage. Missouri River Flood Drama Likely Took Direction from La Niña. NOAA Scientists Measure Earth's Changing Atmosphere. Warmer Climate May Repaint Fall Colors in Eastern U.S. Unusually Chilly Stratosphere Behind 2011′s Record Arctic Ozone Hole.
Arctic sea ice continues decline, reaches second-lowest level. Old Ice Becoming Rare in Arctic. Summer Interlude Over, La Niña Resumes in the Pacific. Record Rains & Floods in the Northeast. Billion-Dollar Weather Disasters Since 1980. Summer 2011 Recap: Across the U.S., Heat Broke Records. Animations and images featuring NOAA's remotely-sensed data.
Ocean Explorer: NOAA Ship Okeanos Explorer: Live Stream 1 (540p) Troubleshooting the Audio & Video Feeds | What Are You Seeing?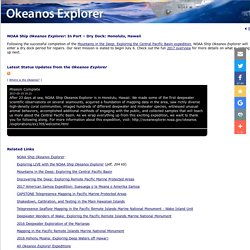 [ View Stream 1 ] [ View Stream 2 ] [ View Stream 3 ] [ Click here for All Live Streams ] Check out our video playlist for highlights from previous field seasons. For updates about our future plans, follow us on Twitter, like us on Facebook, or sign up for email updates. [ Where is the Okeanos? NOAA Marine Debris Program - Welcome. Trends in Carbon Dioxide. Calendar | People | Publications Earth System Research Laboratory Global Monitoring Division Global Greenhouse Gas Reference Network.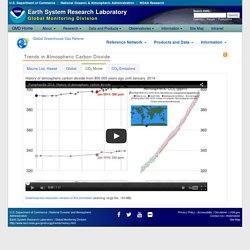 National Oceanic and Atmospheric Administration. National Hurricane Center.
---