Editors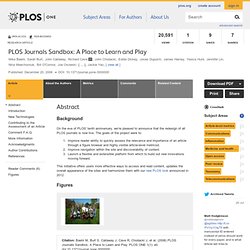 Background On the eve of PLOS' tenth anniversary, we're pleased to announce that the redesign of all PLOS journals is now live. The goals of the project were to:
PLoS Journals Sandbox: A Place to Learn and Play
June 1, 2011 by Bill Hubbard Last week (25th May 2011), JISC Collections held an interesting workshop in London for various stakeholders in the area of Hybrid OA journals – publishers, funders, librarians – which looked at some of the issues in their pricing, sustainability and growth. One of the observations from publishers was that there is now a general acceptance in the publishing community that Open Access was here to stay and that, as publishers, they had to accommodate OA approaches within their business models. This is now being more widely reflected and does represent a change over the last few years and is a positive move.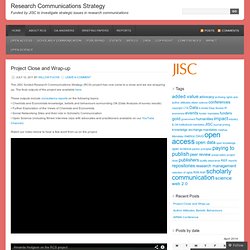 Research Communications Strategy
A manifesto, by a student of the activist coalition RightToResearch. "These days there is continuous discussion on ways to improve the efficiency, quality, and cost-effectiveness of healthcare. I would argue that one of the most neglected and important ways to improve our healthcare delivery and innovation is by opening access to research. "Open Access" is the free, immediate, unrestricted availability of high-quality, peer-reviewed scholarship over the Internet … (…)
Open Access, Publishers profit and the medical community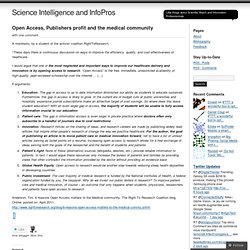 Ce carnet de recherche est conçu comme un véritable carnet de terrain adossé à l'équipe de recherche franco-roumaine qui s'est constituée autour de la mission archéologique « delta du Danube » que vient de créer le Ministère des Affaires Étrangères et Européenne. Par cette forme d'écriture, l'objectif de l'équipe est de mettre à la disposition de la communauté scientifique, au fur et à mesure de leur obtention, des données factuelles (photographies, vidéo, enquêtes orales, portraits de chercheurs…), mais également des informations plus élaborées (documents PDF, rapports, liens vers des publications électroniques et des BDD…). Un autre enjeu réside dans la mise à disposition des autorités gestionnaires de l'espace naturel du Delta du Danube (Réserve Biosphère, Institut du Danube, collectivité locales riveraines…) d'éléments de réflexion.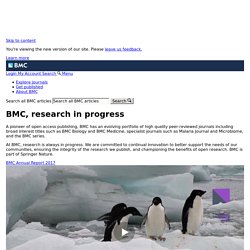 What Does RCUK's Open Access Policy Mean for UK Researchers? Gateways Gateways are collections of content and resources from journals and sites published by BioMed Central.
Publishers of OA books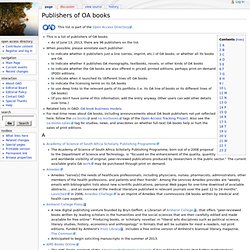 From OAD This list is part of the Open Access Directory. This is a list of publishers of OA books.
The Launch of Europe PubMed Central
By Graham Steel November 1st 2012 sees the launch of yet another significant milestone for Open Access in the form of Europe PubMed Central (PMC). Please see this announcement on the Europe PMC blog. Details of Europe PMC were announced on July 13th 2012 by the European Research Council. This is a continuation of the transition of PubMed morphing from an Abstract only database of life sciences and biomedical research literature into a full text database.