C
Get flash to fully experience Pearltrees
Submitted by alex on Sat, 10/06/2007 - 13:34. A free book for starting with Cocoa using Objective-C Please Donate!
From WikiContent Based on the Jaguar release of Mac OS X 10.2, this new edition of Learning Cocoa covers the latest updates to the Cocoa frameworks, including examples that use the Address Book and Universal Access APIs. Also included with this edition is a handy quick reference card, charting Cocoa's Foundation and AppKit frameworks, along with an Appendix that includes a listing of resources essential to any Cocoa developer--beginning or advanced. This is the "must-have" book for people who want to develop applications for Mac OS X, and is the only book approved and reviewed by Apple engineers. Contents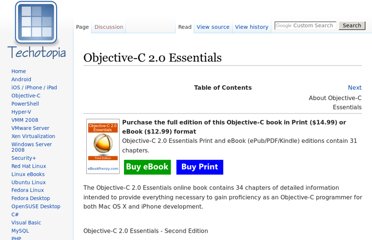 From Techotopia The Objective-C 2.0 Essentials online book contains 34 chapters of detailed information intended to provide everything necessary to gain proficiency as an Objective-C programmer for both Mac OS X and iPhone development. Objective-C 2.0 Essentials - Second Edition © 2012 Neil Smyth / Payload Media. This eBook is provided for personal use only.
Want to write apps for OSX, the iPhone or the iPad? You can learn JavaScript and use a frameworks like PhoneGap or Titanium . Or you can learn the official language of Apple operating systems: Objective-C . The debate over whether to build mobile apps in JavaScript or Objective-C is beyond the scope of this blog post. But if you want to learn Objective-C, these resources will get you started.