August
It's a discouraging fact that drought reinforces drought, especially in the summer.
Drought Reinforcing Drought in the U.S. Southern Plains
Gulf Oil Spill 2010: Health & Safety Overview
Calling all voices for clean energy + oil company accountability!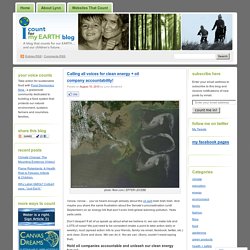 photo: flickr.com | EFFER LECEBE
Antonia Juhasz: BP's "Missing Oil" Washes Up in St. Mary's Parish, LA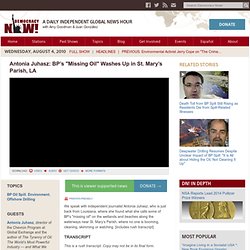 This is a rush transcript.
Environmental Activist Jerry Cope on "The Crime of the Century: What BP and US Government Don't Want You to Know"
This is a rush transcript. Copy may not be in its final form. AMY GOODMAN : BP has announced its latest attempt to seal the largest oil spill in US history once and for all appears to be working.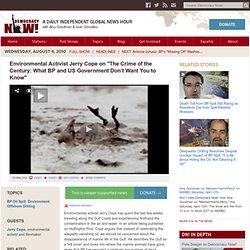 Oil spill dispersant could damage coral populations - environment - 03 August 2010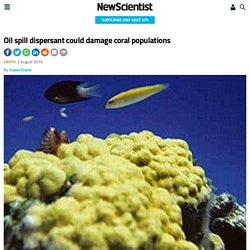 Coral populations in the Gulf of Mexico could fall because of the Deepwater Horizon oil rig disaster – from contact not with oil but with the dispersant that's supposed to get rid of it. Laboratory tests suggest that Corexit 9500A, the dispersant used by BP to tackle the largest offshore oil spill in US history, stops coral larvae latching onto the surfaces where they usually mature. The larvae, often the size of a pinhead, float in the sea before latching onto surfaces such as rocks on the sea floor, cliff faces or old oil rigs.
on the same topic see the pearl with Susan Shaw in July by leclercfl Aug 5
Unified Command for the Deepwater BP Oil Spill | Deepwater Horizon Response
Breaking news - COREXIT fears destroying eco-system Being realized by MAINSTREAM NEWS!