FRANCK LLOYD WRIGHT
Frank Lloyd Wright Slide Show. V.C. Morris Gift Shop. Flwright.us. Frank Lloyd Wright: Designs for an American Landscape, 1922-1932 (Library of Congress Exhibition) Architecture is the triumph of Human Imagination over materials, methods, and men, to put man into possession of his own Earth.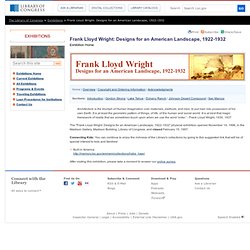 It is at least the geometric pattern of things, of life, of the human and social world. It is at best that magic framework of reality that we sometimes touch upon when we use the word 'order. . ' - Frank Lloyd Wright, 1930, 1937. Treasures of Taliesin: seventy-seven ... - Bruce Brooks Pfeiffer, Frank Lloyd Wright.
JAPAN. USONIAN HOUSES. Franck Lloyd Wright.
---