School networks
Seneca College - Toronto, Canada. Clinicalpartnerships.asu. Arizona State University and Mayo Clinic Scottsdale have joined forces on several new and exciting collaborations in medical research and education.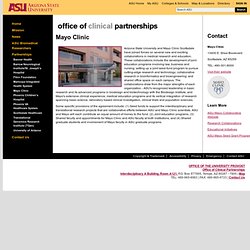 These collaborations include the development of joint education programs involving law, business and nursing; setting up a joint seed-fund program to pursue cutting-edge research and technology; collaborative research in bioinformatics and bioengineering; and shared office space on each campus. The collaborations draw from the major strengths of each organization - ASU's recognized leadership in basic research and its advanced programs in biodesign and biotechnology with the Biodesign Institute, and Mayo's extensive clinical experience, medical education programs and its vertical integration of research spanning basic science, laboratory based clinical investigation, clinical trials and population sciences.
OCAD University. Institute Without Boundaries.
---