Reliure
CaiLun.info - Artist Books Paper & Bookbinding Blog - Cai Lun - Dennis Yuen. Book Tutorial. Introduction Equipment & Supplies The Rule Cutting Folding Sewing Sewing Cont'd Connecting Thread Trimming The Spine The Cover The Cover Cont'd Joining Finishing Embossing Screening *Do NOT duplicate this webpage or use any of its contents without my written permission.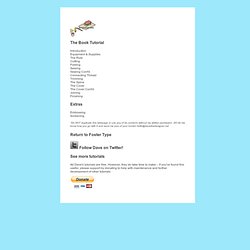 DO let me know how you go with it and send me pics of your books! Hello@davethedesigner.net Return to Foster Type. Bookmaking tutorials that can be found throughout the web. Bookmaking tutorial links from around the Web Here are some links to book and box making tutorials from around the web that you might find useful.
It is by no means all inclusive and is an ongoing project that I will be updating regularly. Please let me know if you find any broken links or if there are any tutorials that you think should be on the list If you're interested in making your own flush mount style albums, check out my visual guide here.
---