Beauty
How to: pore strips. You know those Biore pore strips you buy at the drugstore for about $12 a pop? Yeah, those. Today I'm going to teach you how to make your own homemade pore strips. Out of the ordinary Beauty Tips that work | Cher Cabulas Mindbox. Use toothpaste on yellow nails.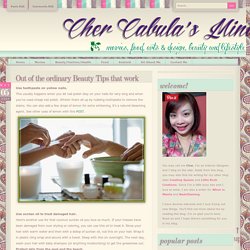 This usually happens when you let nail polish stay on your nails for very long and when you've used cheap nail polish. Whiten them all up by rubbing toothpaste to remove the stains. You can also add a few drops of lemon for extra whitening, it's a natural bleaching agent. See other uses of lemon with this POST. Use suntan oil to treat damaged hair. How To Style Maiden Braids. Last month I did a makeover story with Kelsie and had many requests for a maiden braid tutorial.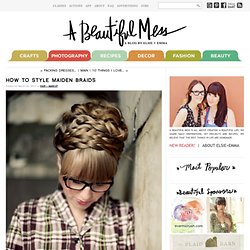 Yesterday she came in and we photographed these simple step by steps. Kelsie has extremely long and thick hair, but anyone with shoulder length or longer can do these braids (see my photo below for an example). Steps 1-2: Braid two strands on each side of a center part. Dorm Room Spa: 3 Easy DIY Beauty Recipes to Try - College Fashion. Photo Credit It's that taxing in-between time of the semester again – spring break is over, papers and projects are coming due, and finals are looming ahead.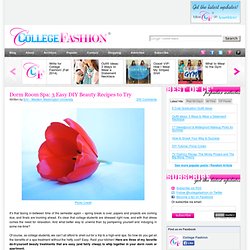 It's clear that college students are stressed right now, and with that stress comes the need for relaxation. 22 Beautiful Uses For Vaseline | beautifulwithbrains.com. Vaseline, a.k.a. petroleum jelly is a beauty staple that every girl should have in their makeup bag.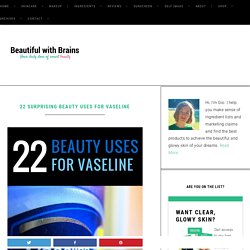 There are a zillions of uses for it and it is so inexpensive! Here's some beauty related tricks you can do with vaseline: Vitamin HB | My Favorite New Coffee Scrub!!! & huda beauty. Vitamin HB | My Favorite New Coffee Scrub!!!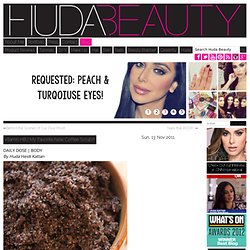 Sun, 13 Nov 2011 DAILY DOSE | BODYBy Huda Heidi Kattan I know I loooove coffee scrubs (remember my HudaBeauty party with the little coffee scrub giveaways), but this one kind of takes the cake when it comes to pure awesomeness! I just the love the way it cleans my skin and leaves it super healthy with a glow! And since it has coffee it helps promote circulation, which means smoother, healthier dimple-free skin! Home Made Pore strips - without gelatin or eggs. 9 Charmingly Delightful Beauty Techniques from All Over the World ….
Beauty techniques are highly beneficial, but some of them are incredibly recycled.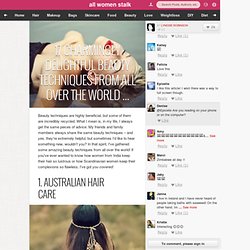 What I mean is, in my life, I always get the same pieces of advice. My friends and family members always share the same beauty techniques – and yes, they're extremely helpful, but sometimes I'd like to hear something new, wouldn't you? In that spirit, I've gathered some amazing beauty techniques from all over the world! If you've ever wanted to know how women from India keep their hair so lustrous or how Scandinavian women keep their complexions so flawless, I've got you covered! How to Make Your Own Beauty Products from Scratch - Health - GOOD.
Let's keep things simple this week.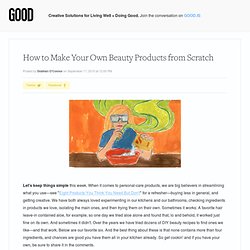 When it comes to personal-care products, we are big believers in streamlining what you use—see "Eight Products You Think You Need But Don't" for a refresher—buying less in general, and getting creative. We have both always loved experimenting in our kitchens and our bathrooms, checking ingredients in products we love, isolating the main ones, and then trying them on their own. Sometimes it works: A favorite hair leave-in contained aloe, for example, so one day we tried aloe alone and found that, lo and behold, it worked just fine on its own. And sometimes it didn't. Over the years we have tried dozens of DIY beauty recipes to find ones we like—and that work. Beauty myths debunked.
Before applying polish paint on a clear base coat to avoid turning your nails yellow.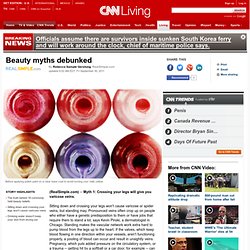 The truth behind 18 commonly held beauty beliefs.Sitting down and crossing your legs won't cause varicose veinsDrinking water doesn't keep your skin from drying out (RealSimple.com) -- Myth 1: Crossing your legs will give you varicose veins. Sitting down and crossing your legs won't cause varicose or spider veins, but standing may. Seven Surprising Uses for Baking Soda - Health - GOOD - StumbleUpon. Let us be clear: Baking soda is not going to permanently cure your acne or turn back the cruel hand of time.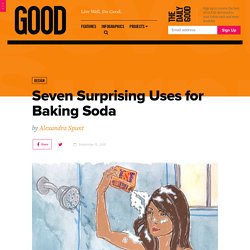 But if you're looking to detoxify your body and your household, this multitasking ingredient will make your life easier (and more beautiful) without denting your coffers. Mom may have taught you that baking soda will make your bread rise and your fridge smell better, but did you know of its many cosmetic applications?
---