Literature
Godfather Death A poor man had twelve children and was forced to work night and day to give them even bread. When therefore the thirteenth came into the world, he knew not what to do in his trouble, but ran out into the great highway, and resolved to ask the first person whom he met to be godfather. The first to meet him was the good God who already knew what filled his heart, and said to him, poor man, I pity you. I will hold your child at its christening, and will take charge of it and make it happy on earth. The man said, who are you.
Grimms Fairy Tales - Godfather Death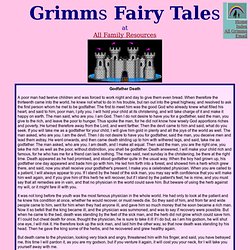 Six Word Stories AboutNewsCategoriesRandomSubmitFacebookTwitter BREAKING: Simulated beings realize they're simulated. —The_Psuedonymouse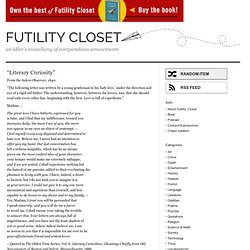 From the Salem Observer, 1840: "The following letter was written by a young gentleman to his 'lady love,' under the direction and eye of a rigid old father. The understanding, however, between the lovers, was, that she should read only every other line, beginning with the first. Love is full of expedients." Madam, –
"Literary Curiosity"
SurLaLune Fairy Tales features 49 annotated fairy tales, including their histories, similar tales across cultures, modern interpretations and over 1,500 illustrations. Also discover over 1,600 folktales & fairy tales from around the world in more than 40 full-text Books. Read the SurLaLune Blog where daily postings discuss fairy tales in popular culture and academia and more. Now Available from SurLaLune: Beauty and the Beast Tales From Around the World! Each of these books collect tales from around the world related to a specific fairy tale type. They are available at Amazon.com and other booksellers.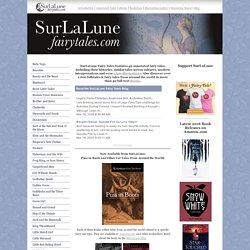 Literary Encyclopedia
::: OPIUM MAGAZINE :::
Alfred Kitman was trying to speak with his usual flowing language, but the prosthetic breasts were tight and had been digging into his chest for most of the afternoon. "During a press conference today, a spokesman for White House discussed the recent reports which cite that mass rioting and looting is occurring in Baghdad –" He stopped and sighed. "I'm sorry I'm afraid I still don't understand this." "Uggggh, dude…" The young camera operator groaned loud enough for Alfred to feel as if he'd somehow misbehaved. Alfred sat behind his new desk, awkwardly holding his papers and feeling the sweat drip from his palms.
The Literary Gothic - the premier webguide to pre-1950 Gothic literature
SourceText.Com