Anime
10 Strange Anime You Would Never Have Thought of. Sorrow-kun's List of 50 Great Anime of the Decade 2000-2009. Our staff's review of the decade continues, and today I'll be taking on the massive task of trying to list the best fifty anime that came out this decade, as I saw them.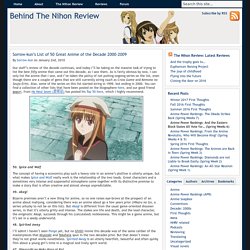 As is fairly obvious by now, I can only list the anime that I saw, and I've taken the policy of not putting ongoing series on the list, even though there are a couple of gems that are still currently airing (such as Cross Game and Kemono no Souja Erin). Also, some of the series on this list started airing in 1999, but ending in 2000. You can find a collection of other lists that have been posted on the blogosphere here, and our good friend gaguri, from Ha Neul Seom (하늘섬) has posted his Top 50 here, which I highly recommend. Castle in sky. Legend of the Galactic Heroes. Darkstalkers. Soul Hunter (Houshin Engi) Brain Powerd. You are watching Brain Powerd 1:You are watching Brain Powerd 1 English Subbed from the Brain Powerd Series.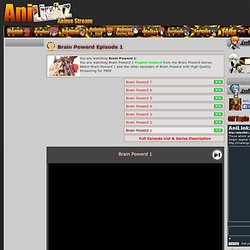 Watch Brain Powerd 1 and the other episodes of Brain Powerd with High Quality Streaming for FREE Brain Powerd 1 Reminders: If this video doesn't load, try to refresh the page or restart your browser. Also make sure to turn off your Ad/Pop-up Blocker or Ad Blocking Extension as most sources nowadays won't play when AdBlockers are enabled. Feel free to use the "Watch Mode" button below instead of using/installing Ad Blockers. Metal Armor Dragonar. Denpa Onna to Seishun Otoko. Request Anime | Report Broken Link Genre: Comedy, Sci-Fi, SeinenEpisodes: 12Type: TV SeriesAge Rating: Everyone Voice Available: Subtitle Available: Synonyms: Electromagnetic Wave Woman and Adolescent Man.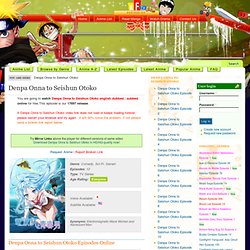 Hidan no Aria. Request Anime | Report Broken Link Genre: Action, ComedyEpisodes: 12Manga: Hidan no AriaType: TV SeriesAge Rating: Teen +13 Voice Available: Subtitle Available: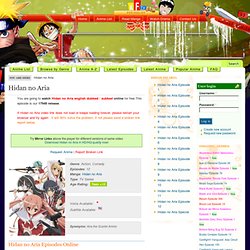 Gintama. 5 Centimeters Per Second. 10 Most Underrated Anime Series. 15 Comments | Add Rate & Share: Related Links: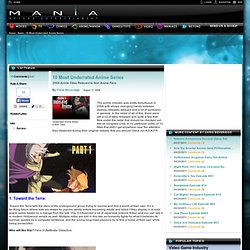 Anime Film Favorites (+ The Top 14 Anime Films of All Time!)
---