Securitisation Bonds etc
Ellen Brown, September 19th, 2009 http://www.webofdebt.com/articles/mers.php A landmark ruling in a recent Kansas Supreme Court case may have given millions of distressed homeowners the legal wedge they need to avoid foreclosure.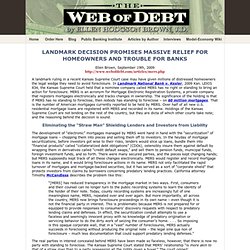 Web of Debt - LANDMARK DECISION
Mortgage-backed security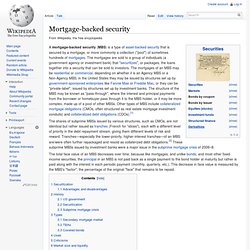 A mortgage-backed security (MBS) is a type of asset-backed security that is secured by a mortgage, or more commonly a collection ("pool") of sometimes hundreds of mortgages. The mortgages are sold to a group of individuals (a government agency or investment bank) that "securitizes", or packages, the loans together into a security that can be sold to investors. The mortgages of an MBS may be residential or commercial; in the United States they may be issued by structures set up by government-sponsored enterprises like Fannie Mae or Freddie Mac, or they can be "private-label", issued by structures set up by investment banks.
The server returned a 404 response.
SubPrimer