Kodak
How Fujifilm survived: Sharper focus
Technological change: The last Kodak moment?
Kodak's woes: Out of focus
IT WAS the Apple of its era. Just like the late Steve Jobs with computers and music-players, George Eastman (pictured below behind the camera, with Thomas Edison) did not invent the camera and photographic development. But he simplified the technology. He outmaneuvered rivals. And he marketed his products in novel ways.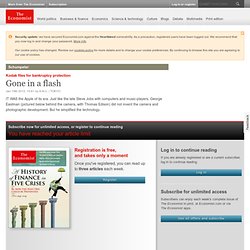 Kodak files for bankruptcy protection: Gone in a flash