Islamic Finance
Chris Bowens|Islamic finance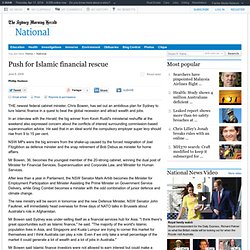 THE newest federal cabinet minister, Chris Bowen, has set out an ambitious plan for Sydney to lure Islamic finance in a quest to beat the global recession and attract wealth and jobs. In an interview with the Herald, the big winner from Kevin Rudd's ministerial reshuffle at the weekend also expressed concern about the conflicts of interest surrounding commission-based superannuation advice.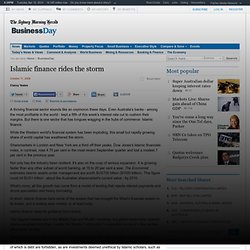 Islamic finance rides the storm
A thriving financial sector sounds like an oxymoron these days. Even Australia's banks - among the most profitable in the world - kept a fifth of this week's interest rate cut to cushion their margins. But there is one sector that has tongues wagging in the hubs of commerce: Islamic finance.
Austrade - Islamic Finnace booklet
the punchline will be the tiltle - Blah - (just testing w/ a fri