SMART Board
Monthly RAP files for SMART Boar. Math RAP files for SMART Board Click on the the link to open the Notebook file for your grade level.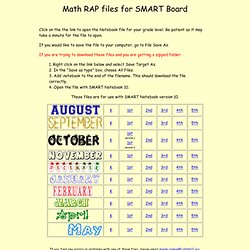 Be patient as it may take a minute for the file to open. If you would like to save the file to your computer, go to File Save As. If you are trying to download these files and you are getting a zipped folder: 1. Great PBS Games for the SMART Board. Whiteboards - Foundation Communicating.
SMART Board. Photo © 2010 SMART España | more info (via: Wylio) Below you will find a few of my favorite places to find pre-made SMART Notebook activities.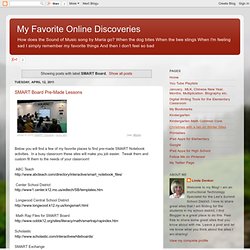 In a busy classroom these sites will make you job easier. Tweak them and custom fit them to the needs of your classroom!
SMART Board. Download FFDShow MPEG-4 Video Decoder 2012-03-22, FFDShow MPEG-4 Video Decoder 2011-11-29 and FFDShow MPEG-4 Video Decoder 2012-03-22 x64 : FFDSHOW is a DirectShow decoding filter. Ffdshow tryouts | Download. Download The latest stable and recommended version is 1.3.4500.
Requirements.
---