Assistive Technology
Of all forms of literature, however, the essay is the one which least calls for the use of long words. The principle which controls it is simply that it should give pleasure; the desire which impels us when we take it from the shelf is simply to receive pleasure. Everything in an essay must be subdued to that end. It should lay us under a spell with its first word, and we should only wake, refreshed, with its last.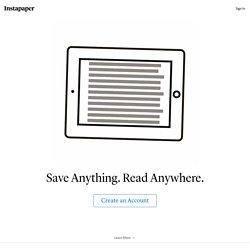 computer assistive technology abilityhub for disability and disabilities
Our mission is to empower organizations to make their web content accessible to people with disabilities. Accessibility Training Whether here in Utah or on-site at your organization, WebAIM can provide comprehensive training to fit your needs. Accessible Site Certification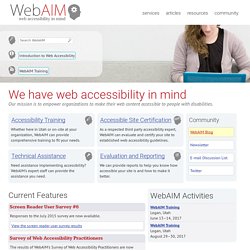 You are here: Home > Articles > The Web Content Accessibility Guidelines A WCAG 2.0 Checklist is available for developers to use in implementing and verifying conformance with WCAG 2.0. The W3C's Web Accessibility Initiative The W3C is an international, vendor-neutral group that determines the protocols and standards for the web.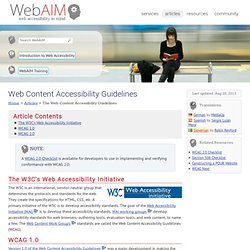 Web Content Accessibility Guidelines
This publication has been funded in part with Federal funds from the U.S. Department of Education, National Institute on Disability and Rehabilitation Research (NIDRR) under contract number ED05CO0039. The content of this publication does not necessarily reflect the views or policies of the U.S.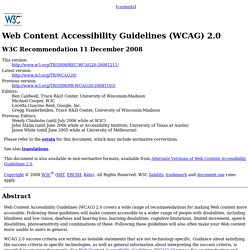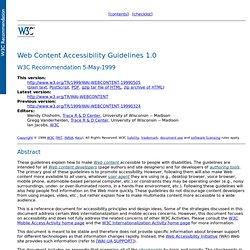 W3C Recommendation 5-May-1999 This version: http://www.w3.org/TR/1999/WAI-WEBCONTENT-19990505 (plain text, PostScript, PDF, gzip tar file of HTML, zip archive of HTML) Latest version:
Access All WWW Areas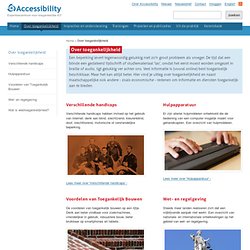 Home > Over toegankelijkheid Een beperking levert tegenwoordig gelukkig niet zo'n groot probleem als vroeger. De tijd dat een blinde een gedateerd tijdschrift of studiemateriaal 'las', omdat het eerst moest worden omgezet in braille of audio, ligt gelukkig ver achter ons. Veel informatie is (vooral online) best toegankelijk beschikbaar. Maar het kan altijd beter. Hier vind je uitleg over toegankelijkheid en naast maatschappelijke ook andere - zoals economische - redenen om informatie en diensten toegankelijk aan te bieden.
An individual with a physically-based disability that makes it difficult or impossible to read a printed book likely will qualify for Bookshare® services. Organizations (schools, libraries, and rehabilitation and social services agencies) can also obtain Bookshare services to support their efforts to meet the reading needs of people with these disabilities. The individual signing up for our services, or the organization serving that individual, will be asked to provide Bookshare with a Proof of Disability (certified by someone who is a Competent Authority as described below) during the registration process. As explained in more detail below, the Qualifications to enroll in and use Bookshare services are based on an exception contained in Section 121 of U.S. Copyright law, commonly known as the Chafee Amendment. These qualifications are not set by Bookshare itself - we have to comply with the law that makes Bookshare possible as a qualified provider of these copyrighted materials.
Qualifications - Bookshare - Accessible Books for Individuals with Print Disabilities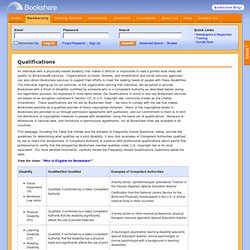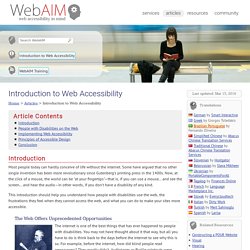 You are here: Home > Articles > Introduction to Web Accessibility Introduction Most people today can hardly conceive of life without the internet. Some have argued that no other single invention has been more revolutionary since Gutenberg's printing press in the 1400s.
Introduction to Web Accessibility
ReadPal -Free download to read faster with no stress or glare.