Aesthetics & information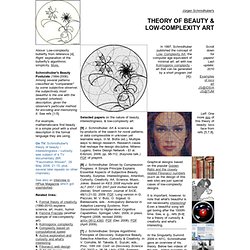 THEORY OF BEAUTY - FACIAL ATTRACTIVENESS - LOW-COMPLEXITY ART
Selected papers on the nature of beauty, interestingness, & low-complexity art: [9] J. Schmidhuber. Art & science as by-products of the search for novel patterns, or data compressible in unknown yet learnable ways. In M.
Word-sense disambiguation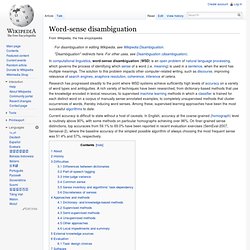 In computational linguistics , word-sense disambiguation ( WSD ) is an open problem of natural language processing , which governs the process of identifying which sense of a word (i.e. meaning ) is used in a sentence , when the word has multiple meanings. The solution to this problem impacts other computer-related writing, such as discourse , improving relevance of search engines , anaphora resolution , coherence , inference et cetera . Research has progressed steadily to the point where WSD systems achieve sufficiently high levels of accuracy on a variety of word types and ambiguities. A rich variety of techniques have been researched, from dictionary-based methods that use the knowledge encoded in lexical resources, to supervised machine learning methods in which a classifier is trained for each distinct word on a corpus of manually sense-annotated examples, to completely unsupervised methods that cluster occurrences of words, thereby inducing word senses.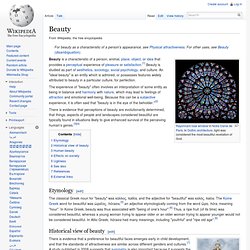 Beauty is a characteristic of a person, animal, place , object , or idea that provides a perceptual experience of pleasure or satisfaction . [ 1 ] Beauty is studied as part of aesthetics , sociology , social psychology , and culture. An "ideal beauty" is an entity which is admired, or possesses features widely attributed to beauty in a particular culture, for perfection. [ citation needed ] The experience of "beauty" often involves an interpretation of some entity as being in balance and harmony with nature , which may lead to feelings of attraction and emotional well-being. [ citation needed ] Because this can be a subjective experience, it is often said that "beauty is in the eye of the beholder." [ 2 ] There is evidence that perceptions of beauty are evolutionarily determined, that things, aspects of people and landscapes considered beautiful are typically found in situations likely to give enhanced survival of the perceiving human's genes. [ 3 ] [ 4 ]
In algorithmic information theory (a subfield of computer science ), the Kolmogorov complexity (also known as descriptive complexity , Kolmogorov– Chaitin complexity , algorithmic entropy , or program-size complexity ) of an object, such as a piece of text, is a measure of the computational resources needed to specify the object. It is named after Andrey Kolmogorov , who first published on the subject in 1963. [ 1 ] [ 2 ] For example, consider the following two strings of length 64, each containing only lowercase letters and digits: abababababababababababababababababababababababababababababababab
Kolmogorov complexity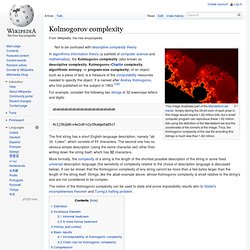 Aesthetics ( also spelled æsthetics ) is a branch of philosophy dealing with the nature of art , beauty , and taste , with the creation and appreciation of beauty. [ 1 ] [ 2 ] It is more scientifically defined as the study of sensory or sensori-emotional values, sometimes called judgments of sentiment and taste. [ 3 ] More broadly, scholars in the field define aesthetics as "critical reflection on art, culture and nature ." [ 4 ] [ 5 ] More specific aesthetic theory, often with practical implications, relating to a particular branch of the arts is divided into areas of aesthetics such as art theory, literary theory , film theory and music theory . [ edit ] Etymology
Aesthetics