HP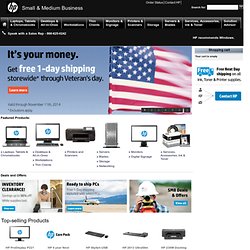 Desktop finder – HP Small and Medium Business
Real-time information, web conferencing and multimedia at your fingertips in an engaging new way to do business. Our lowest price PC designed for small office environments and basic application usage such as word processors, spreadsheets, internet browsing and email. Our best-selling business PC family designed for environments needing image stability and optimized networking capabilities.
DDR3 Memory Configuration Tool
s Small & Medium Business Store
Comprar HP Integrated Lights-Out Advanced Pack 1-SVR INCL 1YR TS
HP iLO Advanced Server con una licencia de 1 año de 24x7 Soporte Técnico y Actualizaciones (512485-B21) Marca: HP . * 512485-B21 HP ProLiant Onboard Administrator, impulsado por el procesador de gestión iLO 2, combina lo mejor en la gestión a distancia con el núcleo de otras funciones de gestión integrado para simplificar la configuración, vigilancia de la salud, poder y control térmico, y la administración remota de ProLiant ML, DL y servidores BL. Funciona sin necesidad de software adicional, y se puede acceder desde cualquier lugar a través de un navegador web. ProLiant Onboard Administrator trabaja mano a mano con el Administrador Onoard BladeSystem, HP Systems Insight Manager, HP Insight Control, Dinámica y HP Insight - VSE clientes ayudando a liberar todo el potencial de sus servidores ProLiant y dirigir sus negocios con confianza. (Para saber más haga click en el nombre)
Cuando 7 de cada 10 cartuchos de tóner no cumple su función 1 , terminan consumiendo tu tiempo. Los tóneres baratos pueden costarte más de lo que te permiten ahorrar. Cuando un cartucho de tóner barato presenta un defecto, tu oficina puede terminar perdiendo tiempo y dinero tratando de resolver el problema.
Tóners originales HP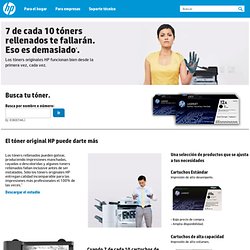 ML370 G5 Options
HP Integrated Lights-Out Advanced Flexible license - PC
ProLiant DL360 G3 Server series -  Background Parity Initializat
On June 26th, the HP IT Resource Center forums were migrated to the HP Enterprise Business Community. This migration coincided with the release of the new HP Support Center , and the retirement of the legacy ITRC support portal. As part of the transition, we have migrated all ~2.5 million posts and ~712k users from the ITRC forums into the new community site. As a result of this transition, all links/bookmarks/search results that attempt to load an ITRC forum page will redirect to this announcement page.