Baby/ Kids
Clear off bathroom countertops by storing toiletries in a hanging organizer. To make one, just stitch a few seams in a hand towel. Tools and Materials Hand towel (about 19 inches by 40 inches) Straight pins Sewing machine 1/2-inch-diameter dowel (2 inches longer than width of towel) One yard grosgrain ribbon Fold down top of towel 1 1/2 inches; pin, then sew to create a channel for the dowel. Flip towel over; fold it onto itself so it overlaps about 5 inches; pin.
Terry-Cloth Caddy - Martha Stewart Home & Garden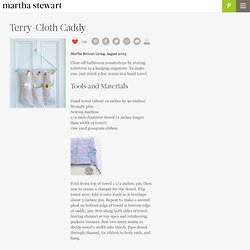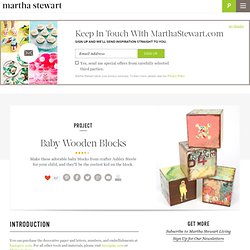 Baby Wooden Blocks - Martha Stewart Kids' Crafts
Make these adorable baby blocks from crafter Ashley Steele for your child, and they'll be the coolest kid on the block. Tools and Materials 3 1/4-inch square wood block Sandpaper Scissors Acrylic paint Mod Podge Paintbrush Decorative paper Emery board Letters, numbers, and embellishments Sponge Baby Wooden Blocks How To 1. Sand the wooden block with sandpaper to prepare it for painting.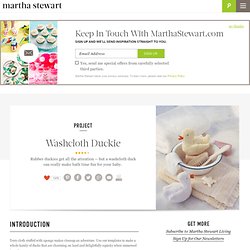 Rubber duckies get all the attention -- but a washcloth duck can really make bath time fun for your baby. Terry cloth stuffed with sponge makes cleanup an adventure. Use our templates to make a whole family of ducks that are charming on land and delightfully squishy when immersed in water. Duck How-To 1. Using the washcloth duck templates , cut duck shapes from a washcloth (use solid lines); each duck part will use two identical pieces; the base takes a single oval.
Washcloth Duckie - Martha Stewart Kids' Crafts
Stenciled Baby Gifts - Martha Stewart Holidays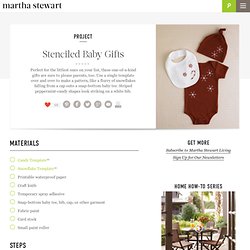 Perfect for the littlest ones on your list, these one-of-a-kind gifts are sure to please parents, too. Use a single template over and over to make a pattern, like a flurry of snowflakes falling from a cap onto a snap-bottom baby tee. Striped peppermint-candy shapes look striking on a white bib. Tools and Materials Candy Template Snowflake Template Printable waterproof paper Craft knife Temporary spray adhesive Snap-bottom baby tee, bib, cap, or other garment Fabric paint Card stock Small paint roller Stenciled Baby Gift How-To 1. Enlarge or reduce template to desired size on a photocopier, using printable waterproof paper (such as Adventure Paper, available at crafts stores).
Baby Bibs - Martha Stewart Kids' Crafts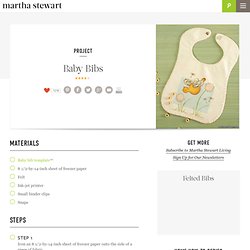 Tools and Materials Baby bib template 8 1/2-by-14-inch sheet of freezer paper Felt Ink-jet printer Small binder clips Snaps Baby Bibs How-To 1. Iron an 8 1/2-by-14-inch sheet of freezer paper onto the side of a piece of fabric.