Girls
Action
Good Vibes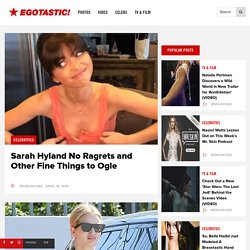 Egotastic! The Sexy Side Of Celebrity Gossip
Wow, could it be that Ireland Baldwin out-cleavaged Kate Upton at a public event? It would be earth shattering news, and I'm not sure that is even humanly possible, but Ireland Baldwin certainly showed up proud and chest-showy to the Sports Illustrated 50th Anniversay party, taking on Kate Upton at her own game, albeit, in a dress Kate could probably not survive without an R-rating herself due to funbag gravitational pull. Both sextastic young ladies looked outrageously hot at the event, while a woman old enough to easily be their mom, Christie Brinkley, nearly stole the entire event with her age-defying alluring blonde charms. I'm not exactly sure how she does it, but she done did it, and stood alongside Ireland and Kate and still getting just as many leers and lecherous looks.
Diosa Canales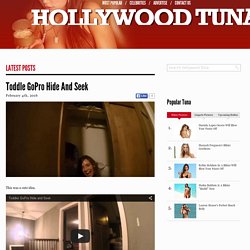 Hollywoodtuna
Super Tight Dresses On Super Hot Girls (The Chive) Mr. Kaley Cuoco Is Going To Regret This Stellar Idea (Dlisted) Damn, Sarah Hyland Just Got Sexy (HuffPo)CoCo With A Pole Up Her Bum (The Superficial) Miley Cyrus Is Free To Twerk All Over Your Junk Now (Fishwrapper) I Find This Woman Beautiful! (Lainey Gossip)
Blog Archive » Candice Swanepoel Takes It Off For The CFDA Fashion Awards… All Off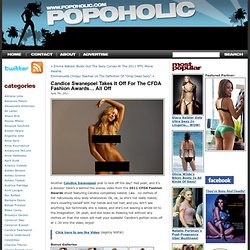 Another Candice Swanepoel post to kick off the day? Hell yeah, and it's a doozey! Here's a behind the scenes video from the 2011 CFDA Fashion Awards shoot featuring Candice completely nekkid.
Thank God It's Funbags (TGIF): Lindsey Strutt Dares to Bare With Each Unbutton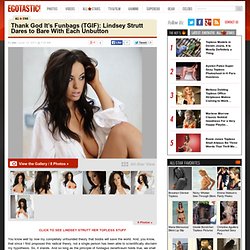 You know well by now my completely unfounded theory that boobs will save the world. And, you know, that since I first proposed this radical theory, not a single person has been able to scientifically disclaim my hypothesis. So, it stands. And so long as the principle of funbagus beneficeum holds true, we shall regularly celebrate the lovely juggulars attached to our very favorite sexy celebrities, in this case, glamour model Lindsey Strutt, who slowly disrobes her shirt into all kinds of celebrations of the awesome boobtastic. I'm not expecting you to believe that watching Lindsay Strutt unclad herself down to her ripe melons will really cure all that ails this planet.
I distinctly remember Father Harrington asking an entire class of young boys what they thought heaven was like. Bunch of little ass-kissers in the class came up with all sorts of views taken directly from the liturgy, but there's no way I was lying to Father H. 'It's like living in a hot woman's brassiere,' I said. Because that's what I believed.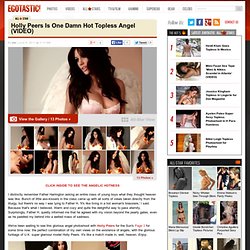 Holly Peers Is One Damn Hot Topless Angel (VIDEO)
2011 Hot 100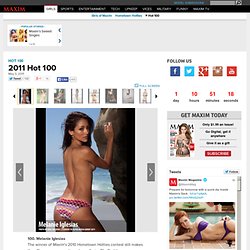 100. Melanie Iglesias- The winner of Maxim's 2010 Hometown Hotties contest still makes the office swoon every time she walks in. Oh, God, here we go again!
SI Swimsuit Collection - Sports Illustrated - SI Vault
com - Free Babe Galleries
So you think you're a cunning-linguist? Does your technique cause your girlfriend to have mind-blowing, hip-shaking, earth moving orgasms? No?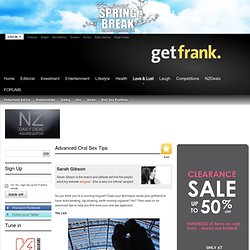 Advanced Oral Sex Tips
Fleshbot: Pure Filth
Make 'Em Scream Jan 13, 14 It's about to get loud in here, guys--in the best possible way. ...read... read more The Talented Abella Anderson Handling a single penis can be challenging at times. Handling two simultaneously, with style and grace?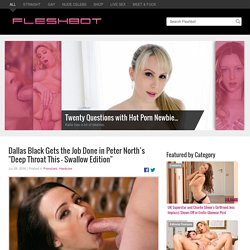 Girls of Philly - Sexy Amateur Girls, Sexy Videos with Girls Kissing and Making Out Brianna Frost, The Girls of Hedsor Hall
SPORTSbyBROOKS Girls
In 1998 Penn State police discovered that current Nittany Lions football coach Jerry Sandusky had been showering with unrelated prepubescent boys in the school football team locker room. (Who was the Penn State coach "present" while Sandusky, child showered?) On May 19, 1998, Sandusky admitted to bear-hugging an 11-year-old boy while both were naked in the Penn State football team locker room shower. The Nittany Lions football coach also, at the time, did not deny touching the prepubescent boy's "private parts" when confronted by the mother of the child - as police detective Ronald Schreffler eavesdropped on the conversation as part of a Penn State investigation. Part of that Penn State police investigation involved Centre County (PA) Child and Youth Services, which assigned psychologist John Seasock to interview the 11-year-old boy on May 8, 1998, to get the child's account of showering with the current Nittany Lions football coach in the Penn State football team locker room.
Z0D.COM: Nine Sexy Galleries Posted Each Day
lazygirls.info - your number one celebrity resource