Clients
Century Architectural Specialties
National Association of Home Builders
Client Login
Nichiha USA, Inc. - Fiber Cement Building Products.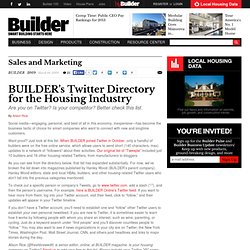 BUILDER's Twitter Directory for the Housing Industry - Sales And Marketing, Business, Technology
Social media—engaging, personal, and best of all in this economy, inexpensive—has become the business tactic of choice for smart companies who want to connect with new and longtime customers. Want proof? Just look at this list. When BUILDER joined Twitter in October, only a handful of builders were on the free online service, which allows users to send short (140 characters, max) updates to a network of "followers" about their activities. Our original list of "Tweeple" included just 10 builders and 16 other housing-related Twitters, from manufacturers to bloggers. As you can see from the directory below, that list has expanded substantially.
DANVER STAINLESS STEEL CABINETRY, OUTDOOR KITCHENS, BARBECUE ISLANDS, OUTDOOR CABINETS
Eternal hybrid: the world's first and most advanced hybrid water heating system
Custom Search