Python
Python Programming Tutorials. Electrical Engineering and Computer Science | 6.189 A Gentle Introduction to Programming Using Python, January IAP 2008. Scrapy | An open source web scraping framework for Python. Beginner's Resources. I've turned up some nice beginner's resources on Python: Dive into Python is an online book teaching Python step by step, the way I like to approach things in my classes.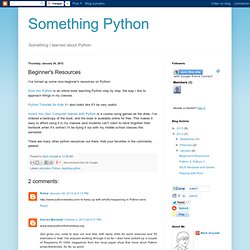 Python Tutorials for Kids 8+ also looks like it'll be very useful. Invent You Own Computer Games with Python is a course using games as the draw. The Hitchhiker's Guide to Python! — pythonguide 0.0.1 documentation. Welcome to The Hitchhiker's Guide to Python.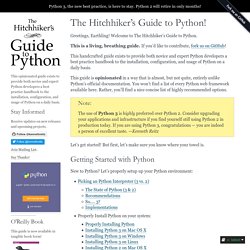 This guide is currently under heavy active development. If you'd like to help, fork us on GitHub! This opinionated guide exists to provide both novice and expert Python developers a best-practice handbook to the installation, configuration, and usage of Python on a daily basis. Getting Started. Kennethreitz.com. Python Software Foundation News. Planet Python.
Python. Web2py. I believe that the ability to easily build high quality web applications is of critical importance for the growth of a free and open society.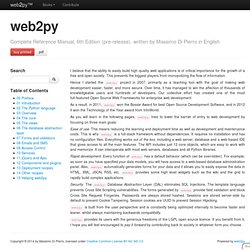 This prevents the biggest players from monopolizing the flow of information. Hence I started the web2py project in 2007, primarily as a teaching tool with the goal of making web development easier, faster, and more secure. Over time, it has managed to win the affection of thousands of knowledgeable users and hundreds of developers. Our collective effort has created one of the most full-featured Open Source Web Frameworks for enterprise web development. PyCLIPS Python Module | Python and CLIPS Integration. PyCLIPS is an extension module for the Python language that embeds full CLIPS functionality in Python applications.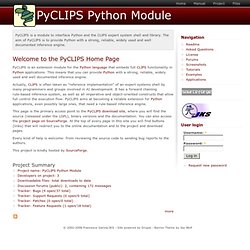 This means that you can provide Python with a strong, reliable, widely used and well documented inference engine. Actually, CLIPS is often taken as "reference implementation" of an expert systems shell by many programmers and groups involved in AI development. It has a forward chaining rule-based inference system, as well as all imperative and object-oriented constructs that allow full control the execution flow. Python Programming in your Browser: PythonAnywhere. Python Community Group News. I'm glad to share a new project called Python for Android.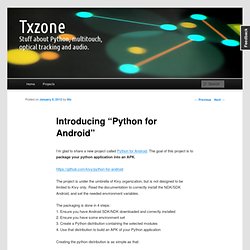 The goal of this project is to package your python application into an APK. The project is under the umbrella of Kivy organization, but is not designed to be limited to Kivy only. Read the documentation to correctly install the NDK/SDK Android, and set the needed environment variables. The packaging is done in 4 steps: 1.
Apsw - Another Python SQLite Wrapper. APSW stands for Another Python SQLite Wrapper.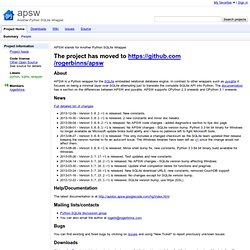 About APSW is a Python wrapper for the SQLite embedded relational database engine. In contrast to other wrappers such as pysqlite it focuses on being a minimal layer over SQLite attempting just to translate the complete SQLite API into Python. The documentation has a section on the differences between APSW and pysqlite. Spyderlib - Spyder is the Scientific PYthon Development EnviRonment. The Eric Python IDE. Learn Python The Hard Way, 2nd Edition — Learn Python The Hard Way, 2nd Edition. How long does this course take?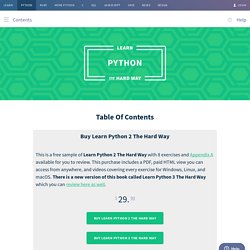 You should take as long as it takes to get through it, but focus on doing work every day. Some people take about 3 months, others 6 months, and some only a week. I can do it in about 4 hours or less if I hurry and don't do the Study Drills. What kind of computer do I need?
---