Logiciels de signature
SIGNIS. CDC FAST. Home - Cryptolog web site - English version. EchoSign. Password Strength (Your password needs to be at least six characters long.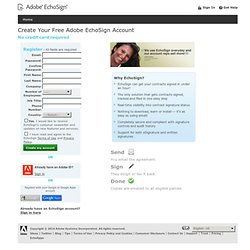 Strong passwords should contain numbers and upper- and lower-case letters.) Note: We NEVER share email addresses with other companies. Use your primary e-mail address where you'd like to receive your agreements. Lex Persona. Validao.
---