Collecte, indexation, partage de contenus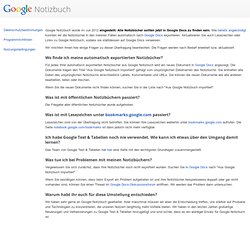 As of July 2012, As previously announced , in most cases we were able to automatically export the Notebook data, so please visit Google Docs . Also please update any bookmarks or links to Notebook so that they point to Docs instead. Here are answers to some questions about this transition. We may add or update questions over time. Where is my auto-exported notebooks data?
phorie - Google Notebook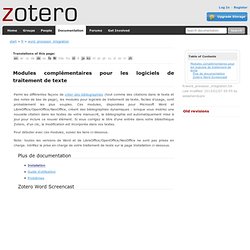 Zotero
Translations of this page: Parmi les différentes façons de créer des bibliographies (tout comme des citations dans le texte et des notes de bas de page), les modules pour logiciels de traitement de texte, faciles d'usage, sont probablement les plus souples. Ces modules, disponibles pour Microsoft Word et LibreOffice/OpenOffice/NeoOffice, créent des bibliographies dynamiques : lorsque vous insérez une nouvelle citation dans les textes de votre manuscrit, la bibliographie est automatiquement mise à jour pour inclure ce nouvel élément. Si vous corrigez le titre d'une entrée dans votre bibliothèque Zotero, d'un clic, la modification est incorporée dans vos textes.