Homeschooling Resources
Easter Videos. Christian Perspective Book Guides. Welcome to the Progeny Press Online Store!
Check out our study guides available via email! $3 processing fee per order. (Please note: These are not instant downloads. They will be processed and emailed within one business day.) •For ALL SCHOOL ORDERS, Media Mail is not available. White Trash Mama. Pizze Hut Reading. Starfall's Learn to Read with phonics. Montessori Materials from Montessori for Everyone. Montessori Print Shop. Counting Coconuts. Sweet Deals for Kids. Confessions of a Homeschooler. Homeschool Creations. Preschool Printables. Preschool Checklist. Remember: Each child grows and develops skills at their own rate, and in their own ways.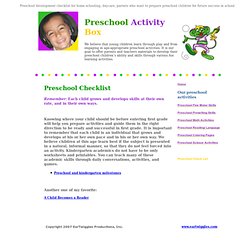 Knowing where your child should be before entering first grade will help you prepare activities and guide them in the right direction to be ready and successful in first grade. It is important to remember that each child is an individual that grows and develops at his or her own pace and in his or her own way. We believe children at this age learn best if the subject is presented in a natural, informal manner, so that they do not feel forced into an activity. Kindergarten academics do not have to be only worksheets and printables. You can teach many of these academic skills through daily conversations, activities, and games. Clifford. PBS Activities. Word Play. Arthur. XTra Math. Kids Home Page.
Homeschool Curriculum Excellence - Robinson Self-Teaching Homeschool Curriculum. Printable Worksheets.
---